Kenny Shiels says goodbye to Kilmarnock before Morton entry
By Clive Lindsay
BBC Scotland
Last updated on .From the section Football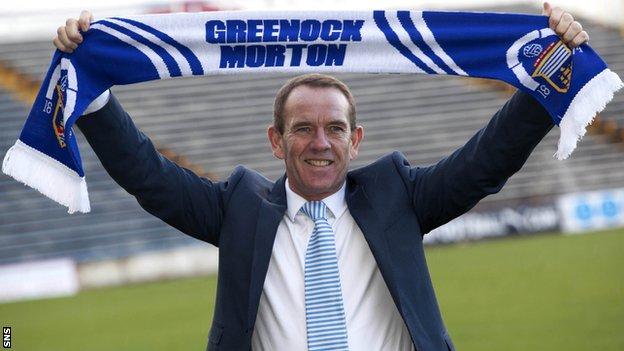 Kenny Shiels had to say a last goodbye to his previous love, Kilmarnock, before starting what he hopes will be a new managerial romance with Morton.
The 57-year-old was before being introduced to the media two days later in Greenock.
"I just went to the training ground on Friday morning and closed it," said Shiels, sacked by Kilmarnock in June.
"I had a cup of tea with the kit manager and said my goodbyes."
Kilmarnock chairman Michael Johnston has been subjected this season to protests from his own fans, with many wanting Shiels to return in place of present team boss Allan Johnston.
And the Northern Irishman admits it "was tough" to put his time at Rugby Park behind him.
"The plans I had for that club were immense," Shiels told BBC Scotland. "Where I wanted to take them, I had put so much effort into that and all of a sudden it has been taken away -
"I was really connected to that club. I loved the people and I loved the club.
"This is a new love affair here at Morton, though. I am going to fall in love with the people here because that's what you do when you work with a club."
He takes over from Allan Moore, whose three-year spell at Cappielow
Morton have subsequently lost three more games - two in the league - to sit and a further four behind Dumbarton and Queen of the South as Shiels begins his attempt to avoid relegation.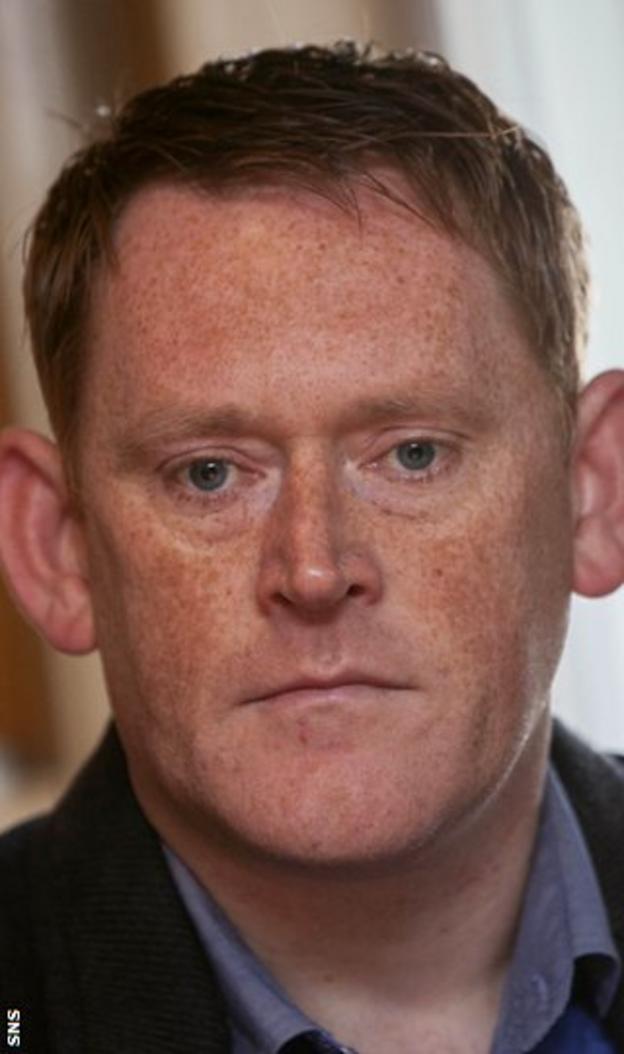 "It is going to be difficult, but I'm ready for the fight, I'm ready for the battle, I'm being positive and I'm very confident that it will move us to a good place," he said.
"A good place will be eighth or better. That would be a massive achievement."
Shiels led Kilmarnock to a League Cup success in 2012 but was axed by Johnston at the end of last season following a string of outspoken comments in the media and a disappointing ninth-place top-flight finish.
On the eve of this month, Shiels had courted controversy again by claiming that he
However, he did not flee his new home and was a regular guest on BBC Radio Scotland and helped the Scottish FA coaching scheme as well as Ayrshire junior clubs Kilwinning Rangers and Troon Thistle.
Morton chairman Douglas Rae was impressed with Shiels' commitment to grassroots football, stressing that the club's youth policy has resulted in them leading the reserve league.
"We wanted a man of the calibre of Kenny and he wanted a club where he could see that there was an opportunity for him to work with the things that were close to his heart," he said.
"He's drawn by that on the one hand and we're drawn by his record, so it's a mutual respect, one for the other."
Rae admits that Morton have a tough task to avoid relegation but believes that Shiels possesses the ability to restore the missing confidence he thinks has been their downfall this season.
The chairman said he would have been quite happy to take three other candidates on the shortlist had Shiels turned down the job.
Asked if he was confident he had chosen the right man, Rae said: "I don't think Allan Moore was the wrong person.
"I think he did a lot of good work here and last year we nearly got promoted - we were three months at the top of the league, from the turn of the year to the end of March.
"Kenny and I share the same ambitions. We both want to eventually get to the Premier League and I'm sure that he will be a very successful manager here."
However, a new era for the former Northern Ireland youth coach begins in familiar fashion, with Shiels having to watch his first game in charge of Morton from the stands as a touchline ban kicks in for Saturday's visit by Falkirk.