Al Ahly confirm Mohamed Aboutrika's official retirement
Last updated on .From the section Football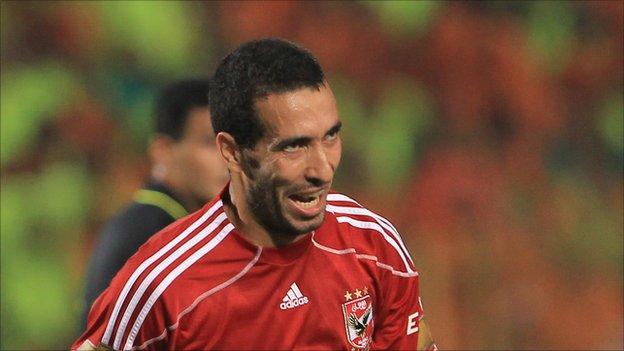 Mohamed Aboutrika has officially retired after confirming his decision to his club Al Ahly.
The 35-year-old Egyptian midfielder announced his intention to retire after the quarter-final of the Club World Cup in Morocco and Ahly failed to persuade him to play one more season.
Aboutrika's last match was against Guangzhou on 14 December, a 2-0 defeat in which he limped off at half-time.
He then missed Ahly's fifth-place play-off loss to Monterrey.
It was not the farewell Ahly or their fans wanted for Aboutrika, who has been at the heart of the Pharaohs for nearly a decade and has won a remarkable five African Champions League titles with Ahly.
The club's board member Khaled Mortagy told BBC World Service's Newsday programme last week: "Aboutrika is a great icon and his retirement would be a big loss for Egyptian football.
"He is a role model on and off the pitch. Egyptian football may not see his like again for 20 to 30 years."
Aboutrika, who amassed over 100 international caps, won successive African Nations Cup titles with Egypt in 2006 and 2008 although he missed the 2010 tournament, which Egypt also won, through injury.
He scored a record 14 goals for Egypt in World Cup qualifiers although that was not enough to fulfil his dream of playing at the finals.
Despite Egypt's success in the Nations Cup, their only appearances in the sport's showpiece event were in 1934 and 1990 and their attempt to qualify for Brazil effectively ended with a 7-3 aggregate defeat by Ghana in the play-offs.
Aboutrika, a philosophy graduate, is equally popular for his stance on political and humanitarian issues.
After scoring against Sudan in the 2008 African Nations Cup final against Cameroon, he lifted up his shirt to reveal a T-shirt with the message "Sympathise with Gaza", earning a reprimand from tournament organisers.
He was widely reported to have carried a dying teenager from the field in his arms during the Port Said stadium disaster in February 2012, where more than 70 people lost their lives, and he spent the next two weeks attending funerals.
Guangzhou coach Marcello Lippi made a point of praising Aboutrika after their game.
"I would like to congratulate him for his outstanding career," said the Italian World Cup winner. "I'm unhappy for him if this should be his last game."