Oxford United chief Ian Lenagan plans Chris Wilder talks
Last updated on .From the section Football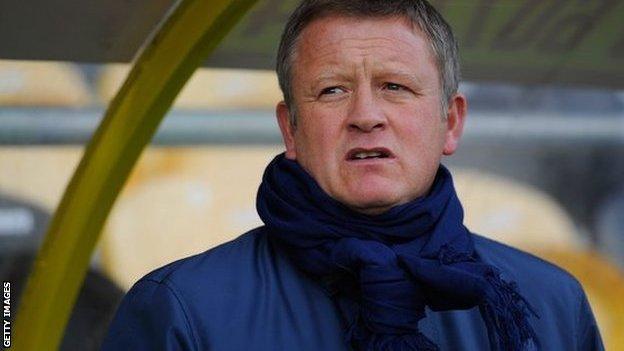 Oxford United chairman Ian Lenagan says talks over manager Chris Wilder's new deal will conclude in the new year.
Wilder is out of contract in the summer and with the U's top of League Two has been attracting a lot of interest.
Earlier this month he was interviewed for the vacant position at Portsmouth but chairman Lenagan will not be rushed into pushing through a new deal.
"I would very much like him to stay but to do that he has to achieve, and he is currently," Lenagan told BBC Oxford.
"Promotion is what we want. Now we are going to have to make a decision before we know whether we have won promotion or not, that is the fair thing to do.
"We cannot wait until the end of May when a man will not know if he has a job or not. That is not fair. The right time is soon and in the new year.
"If we carry on doing what we are doing, have no doubt he will be our manager next year."
The U's have a 12-month extension clause in Wilder's contract.
"Chris and I have a direct and open relationship," Lenagan added.
"We always said at the turn of the year we would talk about a contract extension.
"We are in the nice position to have a one-year extension clause in his contract which we can trigger.
"Chris has the slight uncertainty of not knowing if he will be with Oxford at the end of June so it is right to have that conversation at the turn of the year.
"He clearly wants to stay at Oxford United and is 100% certain about that."
Wilder was handed a new 12-month deal in the summer after a couple of seasons of under-achievement.
And Lenagan says the U's boss is currently justifying their decision to stay loyal when some fans called for his dismissal.
"I think Chris Wilder has done everything we asked him to do," he said.
"He communicates with the fans a lot better. He picks and recruits young players. He has recruited superbly in the summer and the team spirit among the players is excellent.
"We are top of the league, still in the FA Cup and Chris has delivered, and I am delighted. He has gone from a good manager to being a very good manager.
"He wants to take the club into League One and hopefully the Championship, and there would be nothing better if he earned the right to do that. "
Lenagan has defended the decision to allow Wilder to talk to Portsmouth, but was delighted to see him remain at the Kassam Stadium.
"Given his loyalty it would have been totally unreasonable not to allow him to talk to Portsmouth," he said.
"He never said he would take it the job if offered. I was not particularly concerned.
"I do not view the Portsmouth job as a good job. The way they are owned has uncertainty, they have a bad culture.
"They leaked the news of their approach to Chris which I thought was poor and they need to grow as a club. It was the right thing for Chris to do.
"If you have six months left on your contract it is the right thing to do for his family. There was disloyalty and in the end we came out of it rather well."
Meanwhile, Lenagan added they would open talks with out-of-contract players such as striker James Constable in January.
"James' contribution to Oxford has been exemplary," he said.
"James has shown us some loyalty, we too have shown him loyalty. We have turned down £250,000 to keep him and we hope to continue doing that but nothing is certain."