Super Sunday in South America, with five titles up for grabs
Last updated on .From the section Football59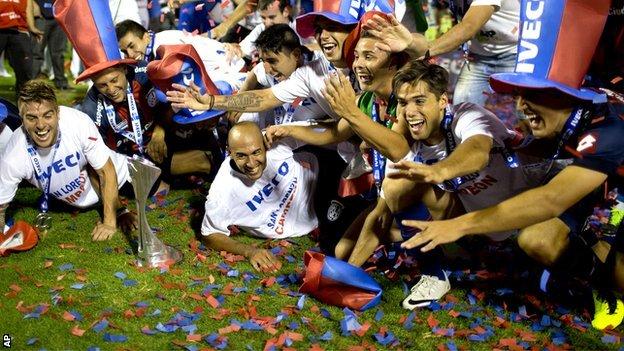 South America staged its Super Sunday at the weekend - five domestic titles were up for grabs.
In Argentina the fixture computer had played its part. Four teams still had a chance of glory, and they faced each other in a dramatic double header. Two draws meant that San Lorenzo, with the Pope's blessing and an interesting crop of youngsters, came out on top.
There was even more drama in Uruguay, where three teams went into the last day with a chance. Favourites were traditional giants Nacional, with a relatively straightforward home game against little Fenix. They took the lead, and with rivals River Plate losing they seemed well on course.
Fenix, though, hit back with two goals, and Nacional veteran Alvaro Recoba had a penalty saved. River Plate equalised in their game - but to no avail because a late free kick gave Danubio a 1-0 win, and catapulted them from third place to top of the table.
Venezuela's closing round was similar, with leaders Mineros going behind early on, giving hope to three chasers, Caracas and Anzoategui (who faced each other) and Zamora. Mineros, though, hit back to win their game 3-1 and claim the title.
Some countries end their season with a final, usually over two legs. In Colombia Atletico Nacional beat Deportivo Cali 2-0 on aggregate, completing a memorable year for the club coached by Juan Carlos Osorio, once on the staff at Manchester City. Colombia stages two separate championships a year, and his men won both of them, and the cup as well.
Peru is still waiting to crown its champion. Bizarrely, goal difference does not count in its final. Real Garcilaso beat Universitario 3-2 in the home leg, but went down 3-0 in the second. With one win apiece, a third game is played to decide matters. As the team with more points in the league stage, Garcilaso could choose the neutral venue, so it will take place on Wednesday in Huancayo - at altitude, conditions more to Garcilaso's liking.
Other than Peru, Bolivia is the only country yet to define its champion. Elsewhere, in Brazil Cruzeiro strolled to the title, in Chile O'Higgins won for the first time despite not being able to play at home, Emelec cruised to victory in Ecuador and Cerro Porteno, unbeaten, did likewise in Paraguay.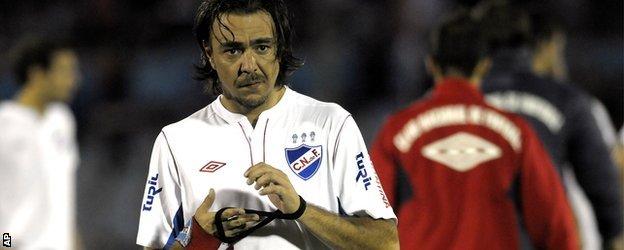 Whatever the format, the objective is the same; win the title, or at least manage to qualify for the Copa Libertadores, the continent's equivalent of the Champions League. Step two of the dream is to win the Libertadores. Step three is to represent the continent - and hopefully have a crack at the Europeans - in the World Club Cup, this year's version of which is currently taking place in Morocco.
This is the dream that Atletico Mineiro are now living. They became Libertadores champions back in July, beating Olimpia of Paraguay on a penalty shoot out. I was in the stadium that night - the same ground where England will play Costa Rica in the World Cup - and I cannot recall such an emotionally intense atmosphere. Even though average ticket prices were an extraordinary £75, there was no feeling of elite finesse.
Without a major title since 1971, Atletico had come to fear that they had been cursed to be a 'nearly' club. Coach Cuca had acquired a reputation for building attractive sides with a sad habit of falling short.
Ronaldinho was surely past it, and centre forward Jo more interested in partying. It all seemed bound to end in tears. And yet they prevailed, and now, accompanied by some 20,000 of their fans, they move on to Morocco to complete step three of the dream. For the last five months Atletico have thought of little else other than the chance of taking on Bayern Munich with the world title at stake.
There is, of course, a huge imbalance here. For Bayern this tournament has nothing like the same priority. A year ago I tried to explain the historical basis for the lack of importance attached to the World Club Cup, especially in northern Europe. In Brazil many are baffled by this mentality.
Some point blank refuse to credit that it exists, preferring to believe that the Europeans care deeply about the thing and merely feign indifference to give themselves a 'get out' in case they are beaten. I do my best to explain that this is not the case, and that there was little unrestrained joy in the streets of Salford when Manchester United won the title in 2008.
But that it not to say that I agree with this way of thinking. The gathering of the champions of the world's continents should surely be treated with a bit more respect, and the signs are that, all too slowly, we might be moving in the right direction.
Corinthians' win over Chelsea last year, and the racket made by their supporters, certainly gave the World Club Cup a bit more credibility. In comparison, though, Atletico's chances look slimmer. Bayern are better opposition, and Atletico, for all their eye-pleasing attacking flair, cannot boast the same compact defensive solidity that proved so important for Corinthians.
Of course, it would be dangerous merely to assume a Europe v South America decider. First come the semi finals. It will be fascinating to see if Marcelo Lippi's Guangzhou Evergrande can take advantage of Bayern's lack of preparation on Tuesday - a win for the Asian side would really make the world sit up and take notice.
And for Atletico, Wednesday's meeting with Raja Casablanca is bound to be a nervy occasion. The Brazilians are expected to win comfortably. But standing at the gates of paradise can have an inhibiting effect. The South Americans are rarely anywhere near their best in the semi final.
Whatever happens over the next few days, Atletico will be back in the Copa Libertadores next year - seeking to win that for a second time, and then complete the dream with another crack at the World Club Cup.
Send questions on South American football to vickerycolumn@hotmail.com, and I'll pick out a couple for next week.
From last week's postbag;
What is Juan Arango's reputation in South America, I see him as one of the most technically gifted footballers currently playing and is this the case over the Atlantic? Also how important is his role in the Venezuelan national team?Ed Carver
I well remember seeing him as a kid nearly 14 years ago in the South American Under-23 Championships, and being struck by that wonderful left foot of his.
The Borussia Monchengladbach man is a strong candidate to be considered the best player Venezuela has ever produced and has made an immense contribution to the rise of their national team. The inspirational effect of having a player do so well in Europe should not be underestimated. In baseball, the traditional sport in Venezuela, plenty of players have done well in the US. Venezuelan football really needed someone to do something similar.
During the Copa America in Venezuela back in 2007 it seemed that the entire country was wandering round in Arango's number 18 shirt. He's also been a powerful inspiration for Venezuela's next generation - the likes of Yohandry Orozco and Romulo Otero grew up wanting to emulate Arango.