Gerard Deulofeu: Everton forward suffers hamstring injury
Last updated on .From the section Football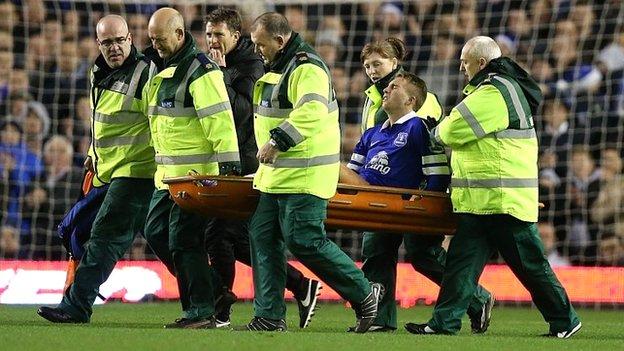 Everton boss Roberto Martinez said Gerard Deulofeu would be sidelined "for some time" after suffering a hamstring injury in the 4-1 win over Fulham.
The Spaniard, 19, made his second Premier League start of the season and was a threat before he was stretchered off as Everton climbed to fourth.
Martinez said: "We don't know how big the tear is going to be but we expect Gerard to be out for some time.
"It is unfortunate because I thought he was ready to play a big role."
Martinez added: "We are going to have to be patient and wait for him to come back in the final third of the season as strong as he can be."
Deulofeu was starting to become a key player for Everton this season, scoring in the 4-0 victory over Stoke last month, his first Premier League start.
The Barcelona loanee also came off the bench to scored a crucial equaliser in the 1-1 draw with Arsenal last Sunday.
Everton face Swansea, Sunderland and Southampton in December before travelling to Stoke on New Year's Day.
"Straight away he felt it and it's something we will assess," said Martinez. "Gerard is like a sprinter and clearly the hamstrings are exposed in those sort of injuries."
Deulofeu was replaced by Kevin Mirallas after Leon Osman had given Everton the lead.
Dimitar Berbatov equalised from the penalty spot before goals from Seamus Coleman, Gareth Barry and Mirallas wrapped up the win.
Martinez, who admitted it was a "difficult" game after the result at the Emirates Stadium and winning at Old Trafford, said his side's success this season would depend on a "ferocious" competition for places.
They have only lost one game this season and are unbeaten at home in 2013.
Asked how Everton can continue their form, Martinez said: "The answer is we need to get everyone fit and make sure the competition for places is ferocious and that way we can be competitive in every game that we go into."
The Spaniard also praised his side's positive response to Berbatov's goal.
"When the scoreline was level, we were able to open the game and it was more a case of trying to win it, not having something to lose, and that proved to be very positive," he added.
"Maybe the scoreline was a bit harsh on the performance of Fulham, but overall I think we always carried a threat."