West Ham: David Sullivan admits regrets over Andy Carroll

Last updated on .From the section Football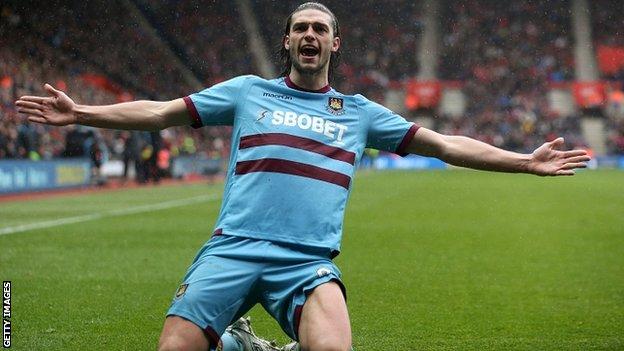 West Ham co-owner David Sullivan would not have spent a club-record £15m on Andy Carroll had he known the striker would be out so long through injury.
He remains at least three weeks away from fitness as he recovers from a double fracture in his right foot.
"Had we known he would be out for this long, we would not have signed him," Sullivan told the BBC's Football Focus.
"We are not a rich enough club to deal with that. You know any player can get injured, but we can't buy a player knowing he is going to be out for half the season.
"When we signed him we were assured by the medical staff that the very, very latest he would be back was 1 September. That would have meant he would only miss two league games."
Carroll has returned to training at the club's Chadwell Heath training ground in the past week, and Sullivan remains hopeful that the England international will come good.
"If you ask me the same question at the end of the season, I hope I will be able give you a different answer and say 'Yes, it was the right decision to sign Andy Carroll'.
"He is a fantastic player and on his day he is unplayable. We love him and that is why we signed him. He is desperate to come back; he is sweating blood in training."
The forward has spent the majority of his rehabilitation receiving specialist treatment in Belgium and the Netherlands.
Carroll has used a variety of techniques that ballet dancers exploit to build up the strength in his foot, but Sullivan told BBC Sport that he still remains unsure when the striker will return to the side.
"He has been all over Europe for treatment and he has begged me to come home," said Sullivan. "He has rung me up and said 'It is doing my head in being here, I really want to get back as soon as possible, I really want to play'.
"Even now we haven't got a date that he could be back. He could be back in three weeks, he could be back in six or eight weeks. I hope he might make a contribution in the next three or four weeks, that might be 20 minutes as a sub.
"He is not going to be quite the player he was at the end of last season until he has played some games.
"He is a fantastic player, don't get me wrong, but I only wouldn't have signed him because I can't have that amount of wages and that amount of transfer fee on a player who isn't going to play a minimum 20 or 30 games a season, hopefully 38 games a season."
With Carroll sidelined, West Ham have slipped into a relegation battle and on Saturday.
"It has been an extremely difficult season," said Sullivan. "We are not playing very well, we didn't anticipate it and it has gone far, far worse than we could possibly have imagined.
"The hope this season was to be mid-table right from the start, never to be threatened by relegation, to play the strongest possible teams in the cup matches and to try and get to a cup final - that was our aim.
"Now we have a relegation battle and, although we are still in both the cups, I don't know if the manager will want to play his strongest teams because it is vital that we get points."
He added: "I am deeply concerned. Anybody who looks at where we are in the table and is not concerned are kidding themselves."
Off the back of a run that has seen West Ham win just one of their past eight league matches, the future of manager Sam Allardyce has been called into question in recent weeks, but Sullivan says the board have no intention of sacking him. "I really believe Sam is the man for the job," the Hammers co-owner said.
"If he wasn't our manager he is exactly the type of manager you would be bringing in to be the manager. Where do you get someone better than Sam to do the job that is now necessary?
"If you asked me what kind of season Sam has had up to now, I would say disappointing. But let's judge him at the end of the season. I think the Newcastle manager would have been sacked by most fans after a month of the season but now he is flavour of the month."