Celtic fined by Uefa over Green Brigade banner display
Last updated on .From the section Celtic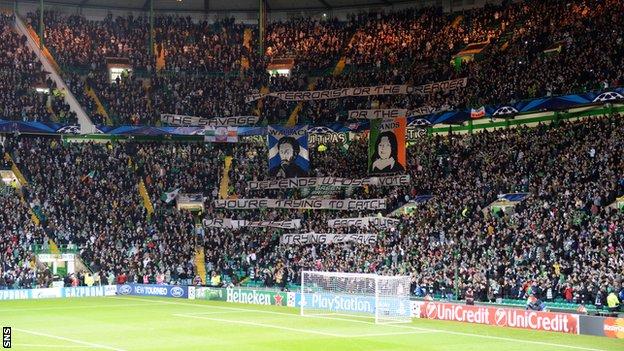 Celtic have been fined £42,000 (50,000 euro) by Uefa for "illicit" banners at the home defeat by AC Milan.
In a statement, Celtic warned continued misbehaviour could see them play European games behind closed doors.
Previously, "ultras" group The Green Brigade defended their right to "cultural and political expression".
Uefa rules prohibit messages of a political and ideological nature being displayed in a stadium.
The fine is the fourth time the European governing body has taken action against the Glasgow club as a result of fan indiscretions in the last two years.
Celtic were fined £12,600 (15,000 euro) two years ago after supporters chanted pro-IRA slogans during a Europa League match against Rennes.
They were then handed a further £21,000 (25,000 euro) punishment after their followers unfurled a banner criticising Uefa and set off flares during a later match in the same competition at Italian side Udinese.
Another £4,200 (5,000 euro) penalty was incurred three months ago when a firework was let off during the Champions League qualifier against Cliftonville.
Celtic chief executive Peter Lawwell has accused The Green Brigade of damaging the club's reputation.
His statement read: "Clearly, it's extremely disappointing that the club must pay another sizeable penalty following the actions of a small minority, particularly given the previous assurances which were made to the club and the widespread understanding of the likely outcome of such actions.
"Regrettably, due to previous charges being brought against the club, again following the actions of a small minority, the fines imposed by Uefa are increasing in scale.
"It goes without saying that such actions must stop now, before the club receives a competitive sanction or one which would affect our supporters attending European matches."
Earlier this week, Celtic gave "precautionary suspensions" to 128 supporters preventing them from attending home and away matches following trouble at Motherwell's Fir Park, while 250 season ticket-holders - housed in section 111 (where The Green Brigade congregate) - will be moved to other parts of the ground or given refunds on season tickets.