Robin van Persie: Man Utd striker out for a month with thigh injury
Last updated on .From the section Football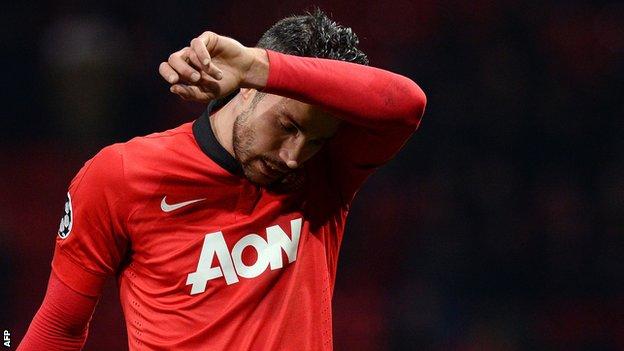 Manchester United striker Robin van Persie has been ruled out for a month with a thigh strain.
United play eight matches before facing Chelsea in the league on 19 January.
"It's unfortunate," said boss David Moyes. "Our record is good with Wayne Rooney and Robin in the team. We've not had them for quite a period recently."
Van Persie has endured a campaign disrupted by injury so far after suffering toe and groin problems. Last weekend, he had returned from a month-long absence in the 1-0 defeat to Newcastle.
He arrived at Old Trafford for £24m from Arsenal in August 2012 and scored 26 goals last season as United claimed the Premier League title.
Despite struggling for fitness, Van Persie has managed to score seven goals in 11 league appearances this term.
Moyes added: "Marouane Fellaini has a bit of a back injury. Michael Carrick is missing and Robin is going to miss four weeks with a thigh strain. That is a big blow to us."
Nemanja Vidic, Patrice Evra and Chris Smalling were also sidelined for the Shakhtar game, but the Scot remained upbeat about his team's prospects.
He said: "I have no doubt it will get better.
"I am sure we have plenty of players who can cover it and [make sure] we don't miss them too much."
United travel to Aston Villa on Sunday ninth in the table, after successive home losses to Everton and Newcastle left them 13 points behind leaders Arsenal.