Celtic will remain European 'lightweights' claims Lennon
Last updated on .From the section Football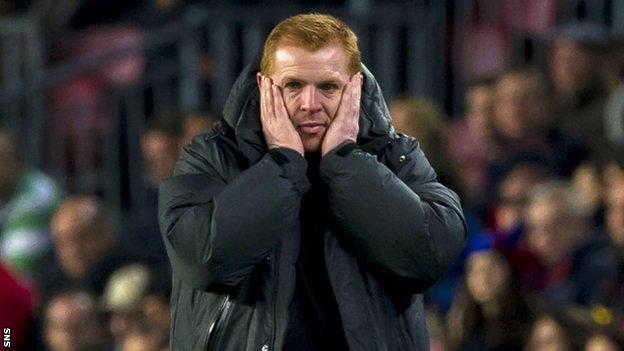 Celtic manager Neil Lennon says stabilising the club financially will mean remaining European "lightweights" within the Champions League.
He insisted that the club is "unable" rather than "unwilling" to make expensive signings.
"We are the lightweights when we go in to the Champions League, but we knew that going in," said Lennon.
"We have to stabilise the club and look after it. Not just me but the board think that way."
Celtic's midweek 6-1 defeat by Barcelona in their final Champions League group match left the Glasgow club bottom of the Group H table with just three points from six games.
It also equalled the club's record margin of defeat in Europe and called into question the policy of selling on valuable players.
Lennon insisted the issue is not with buying players but with the uncertainty of reaching the lucrative Champions League group stages.
"We're in a difficult position because of where we play our football domestically," said Lennon.
"You have three qualifiers then you have no guarantee that you'll get to the Champions League and, when you eventually do, you've got a two-week window to try and attract players, but that's a difficult thing to do.
"Even if we had spent £7m on the striker, would that have guaranteed us getting into the last 16?
"It might have made us a little bit better but weaker in other areas of the pitch."
Celtic's performance in Europe this season was a stark comparison to last season's outing, where they defeated Barcelona at home and progressed to the last 16 for only the third time in the club's history.
Lennon maintained that Celtic are simply unable to keep up with the high spending of their Champions League opponents but would continue to seek out potential talent and profit further down the road.
"It's not hard, it's impossible," said Lennon. "Barcelona's wage bill is £210m. Ours isn't a fraction of that. It's impossible.
"I think we over-achieved last year. We finished fourth in the group [this year] and we were seeded fourth this year - it is what it is.
"We will always look to invest in the team when we can - and we'll look to do that in January.
"It can't always be the perfect scenario we all want.
"Last year was great, we performed really well. This year, we were up against it for varying reasons - the main one being that it was the toughest group of the lot with the quality of the sides we had to face.
"The strategy is to find these younger players, develop them and hopefully they'll have a resalable value.
"In the meantime, try and win the domestic title and be a consistent a Champions League team - that's where we are and it's the best we can do at the minute.
"It's not perfect, but it's where we are. It's the best we can do."