Robert Soldado 'not guaranteed' place despite hat-trick
Last updated on .From the section Football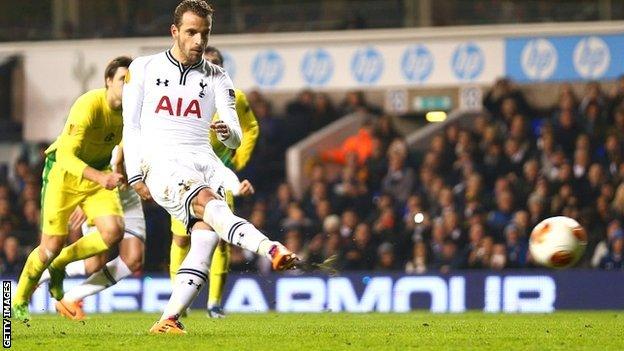 Tottenham boss Andre Villas-Boas said Roberto Soldado is not guaranteed to start against Liverpool on Sunday despite scoring his first hat-trick for the club against Anzhi Makhachkala.
The striker scored three in the 4-1 win with Spurs already having topped Europa League Group K prior to kick-off.
"We have to think about it," said Villas-Boas of Soldado's chances.
"It's a bit premature. We always wanted to give this game to Roberto after two games in a row for Jermain Defoe."
Fellow striker Defoe has started Tottenham's two previous Premier League games, where they have beaten Sunderland and Fulham.
"Jermain was deserving of his chance as well," added Villas-Boas. "Now it's about putting the best possible strategy of the game and seeing what we can do.
"What this will help is put the player back with confidence with his final touch and a striker always lives off goals so it's extremely important."
Soldado has faced criticism for his lack of goals since signing for £26m from Valencia in the summer.
But his opening two goals were the 28-year-old's first from open play at White Hart Lane before he slotted home a second-half penalty to take his season's tally to seven.
Lewis Holtby was also on the scoresheet as Tottenham qualified as one of two teams with a 100% group-stage record.
Villas-Boas said that the victory continued his side's rehabilitation after their 6-0 defeat by Manchester City last month.
Their unbeaten run is now five games ahead of the Premier League clash with second-placed Liverpool on Sunday.
"It was good response," he said. "We were focused on getting a result and the performance did go our way.
"We were sure of our talent and our responsibility to give something back to the fans."
Tottenham are sixth in the Premier League, eight points behind leaders Arsenal and three points behind Liverpool.
"We are going to a big game with Liverpool that can really put us back into our momentum," Villas-Boas added.
"The Premier League is very tight so to gather three points we can join the teams at the top - if we do that we can be completely back on track."
Given that his side and Anzhi had already progressed to the knockout stages, Villas-Boas said he was delighted with his team's dedication.
And the former Porto coach said he wanted to avoid the Portuguese side, with whom he won the Europa League in 2011.
He said: "I know the team I would not like to face would be Porto. There are some big teams, and with teams from Champions League you get some bigger teams, so hopefully we can get a good draw."