Man City v Arsenal: Ultimate test for Premier League's top travellers

By Phil McNulty
Chief football writer
Last updated on .From the section Football581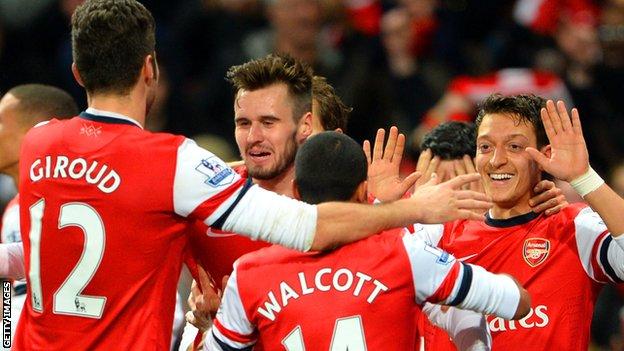 Arsenal's credentials to emerge from the pack as Premier League champions for the first time in 10 years undergo forensic examination on an almost weekly basis.
Their status as the most consistent team so far this season has not protected manager Arsene Wenger and his players from doubts created by their failure to win a trophy since 2005.
The graph of expectation rose when Tottenham and Liverpool were beaten then dipped with defeat at Manchester United - but the most accurate measure of all may be about to arrive when they face Manchester City at Etihad Stadium on Saturday.
Arsenal must recover from a late-night kick-off in Naples, and the disappointment of defeat and only the runners-up spot in their Champions League group - something that leaves them at the mercy of Monday's last-16 draw - to an early start in Manchester and their biggest domestic test so far this season.
Put simply, it is a meeting between the best home team in the Premier League and its best travellers.
If Arsenal come away with at least a point from a ground where a succession of teams, Manchester United included in a 4-1 derby defeat, have been swept away by City's sheer weight of attacking talent, then Wenger has every right to insist no-one can take their title credentials anything other than very seriously.
Arsenal's consistency over the last 12 months is worthy of such respect. Since 1 January they have played 34 league games, winning 23, drawing six and losing only five.
It is a record of high consistency but Wenger will be able to make even more convincing title claims should his side win at the likes of the Etihad.
And these are the games Arsenal need to start winning after fifth-placed Everton gave them a full run for their money in a 1-1 draw at the Emirates last Sunday.
They boast only one win and four draws from their last nine games against the other teams who finished in last season's top six - Manchester United, Manchester City, Chelsea, Spurs and Everton.
Significantly, they have scored only six goals in those nine games.
For City, Saturday's lunch-time game is an opportunity to make another powerful statement at home - and if that can finally be bolted onto improvements in their poor away form, then Manuel Pellegrini's side will look ominous.
Arsenal can look to some happy history to suggest a team inspired from midfield by the likes of Mesut Ozil and Aaron Ramsey and led from the front by Olivier Giroud can achieve that landmark result.
The Gunners have scored more goals (28) than any other away team at Manchester City in the Premier League era and no team has won more league games against them than Arsenal. Along with Chelsea, they have beaten City 21 times, and also have the highest success rate away at City - a record of 10 they also share with Chelsea.
Numbers can also be used to demonstrate this is a meeting between two current Premier League heavyweights in the environment that suits them best. City have the best home attacking league record, scoring 29, and the best home defence with just two goals conceded.
Arsenal have the league's joint best away scoring record with 14, allied to the best away defence with only five goals conceded.
For all this, there can be no doubt this game represents their fiercest examination this season and one they must negotiate better than their 1-0 loss at Old Trafford when former Arsenal striker Robin van Persie scored the winner.
Wenger made telling comments about the reason for Arsenal's loss, albeit with a side in which several players were suffering from a virus.
He refused to use illness as an excuse though, saying: "We were just too nervous. We haven't won here (Old Trafford) for a long time now."
There can be no stage fright on Saturday at a ground where they not won for more than three years. City have scored in 57 consecutive home games in the Premier League and in Sergio Aguero have a world-class striker who is vying with Liverpool's Luis Suarez for top attacking honours this season.
If Arsenal need the comfort blanket of statistics to bolster any fragility in their confidence, their total of 35 points from 15 games compares favourably with previous title wins under Wenger.
In 1998, Arsenal had collected 27 points and had two more in 2002. In the 2003-04 season of 'The Invincibles', when they went through the league season unbeaten, they had the same total of 35 points at an identical stage of the season.
This suggests there should be no nerves from a team that has performed so impressively this season.
In a game of such importance that may rely on small margins, Arsenal must hope their attacking play can somehow match City's. The 2012 champions, led by Aguero and Alvaro Negredo - the new cult figure at The Etihad who has been dubbed "The Beast" by City's fans - have been imperious on home turf.
Negredo has a 25% conversion rate of chances in his first season in the Premier League, while Aguero comes in at 24%. Giroud's rate stands at 18%.
In terms of taking opportunities, this game will see the most efficient in the Premier League, with City scoring from 20.6% of their shots and Arsenal 18.9%.
Arsenal's north London rivals Tottenham felt City's full force in a 6-0 mauling recently and now it is the turn of Wenger to devise a plan for success which has so far eluded all of his Premier League counterparts this season.
Wenger, ever the optimist and with an iron-clad belief in the character and class contained in his side, will travel to the Etihad convinced they can get the result that will make so many doubts go away.
Even if they do not, Wenger will believe Arsenal - who could have gone seven points clear at the top with a win against Everton last Sunday - have already shown enough in a season predictable only in its unpredictability, to go all the way and end those barren years.