Nile Ranger: Swindon boss Mark Cooper wants respect from striker
Last updated on .From the section Football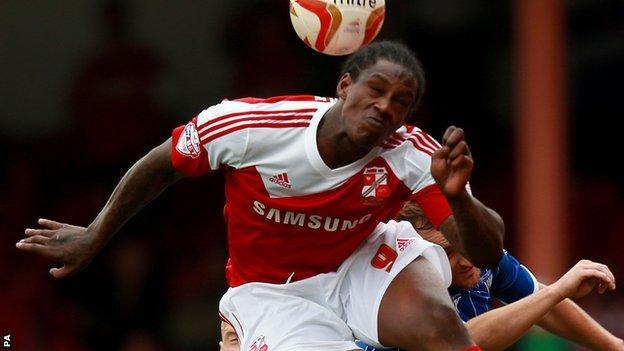 Striker Nile Ranger will not feature in the Swindon squad until he shows some "respect" to the team, according to manager Mark Cooper.
He returned to the side for the 3-1 win against Carlisle but has once again dropped out the squad.
"He doesn't behave like the rest of the players," Cooper told BBC Wiltshire.
"Until he shows the rest of the players a bit more respect, he won't feature."
Ranger has scored six goals in 17 appearances since joining Swindon in the summer, following his departure from Newcastle in March.
Problems arose prior to Town's FA Cup defeat by Macclesfield when Ranger failed to turn up to a team meeting.
The forward was granted a period of leave but did not report back to training as planned.
The club then issued a statement saying they had given Ranger more time off to prepare for his forthcoming rape trial.
He is due to appear in court in January after being charged with rape, in connection with an alleged incident in Newcastle earlier this year.
Ranger's last appearance on 30 November came as a 73rd minute substitute against Carlisle.