Terry Butcher defends top-flight following Celtic thrashing
Last updated on .From the section Hibernian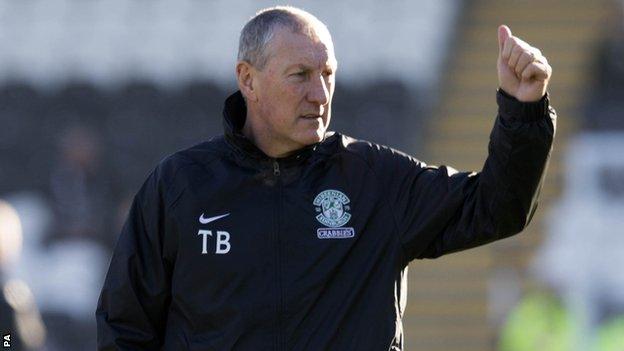 Hibernian manager Terry Butcher insists it would be wrong to blame Scottish football for Celtic's poor Champions League campaign.
"Celtic on Wednesday felt like we feel (most weeks)... 'welcome to our world'," he said.
"It does come down to money, but you have to spend that money wisely."
Celtic manager Neil Lennon criticised his players for their "half-hearted" performance in the Nou Camp and Butcher, whose side face Celtic on Saturday, empathises with the disparity between the Scots and the European giants.
Butcher said the financial gulf was akin to that between Celtic and the rest of Scottish football.
"It's so hard for Celtic on the European stage as they are one of the minnows, one of the small teams," said former Rangers defender Butcher.
"You only have to look at the Premier League and see how much money they get each year.
"With Celtic, it will take years and years to get one year's income from the Premier League.
"It's very much an un-level playing field, but that's what we have to face against Celtic or when Rangers were in the top-flight."
Trying to replace quality players like Victor Wanyama and Gary Hooper, who were sold to Southampton and Norwich City this summer, was also a difficult task, the Hibs boss added.
"When you lose people like Wanyama and Hooper, its very difficult to replace them," added Englishman Butcher.
"These are quality players who are now playing in the Premier League.
"When you lose players like that and don't replace them like-for-like, you get frustrated and disappointed."