Hearts boss Gary Locke uses youth players to combat injury list
Last updated on .From the section Hearts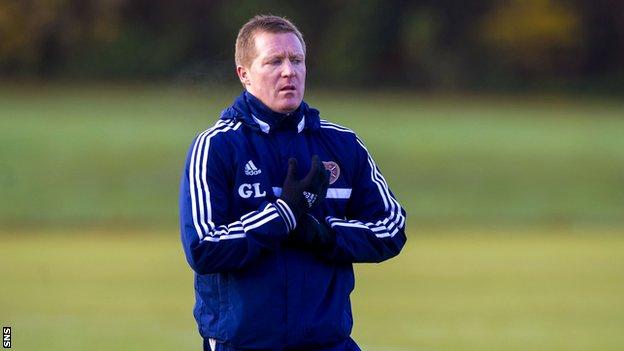 Gary Locke will attempt to ease Hearts' injury concerns by adding ground-staff players to bolster his 12-man first-team squad.
"We're under a transfer embargo and in administration, so we'll just go with what we have: a paper-thin squad," said Locke.
"It's not easy but we're not making excuses."
Locke, whose side face Inverness CT at the weekend, said this season was difficult for everyone at the Edinburgh club.
"At the start of the season, we had 14 professionals and then the ground-staff lads which consists of Sam Nicholson, Gary Oliver, Adam King, Angus Beith and they have been part of the squad all season," said the Hearts boss.
"But with Ryan, Holty and Ridgers out, we have just 12 outfield professional players with the ground-staff boys making up the rest.
"We knew this sort of thing might happen and that it would be a big ask for us.
"We knew this type of thing could happen. I said at the start of the season that getting injuries would be a big ask for us.
"Obviously, we've got a couple of injuries now. We've got to try to make the most of it. The under 20s did well the other night.
"One or two did very well in the game and they'll get an opportunity in the game tomorrow."
Locke concedes that losing 29-year-old midfielder Stevenson was "a huge blow".
"We'd already lost Ryan earlier in the season to a bad knee injury," he said.
"He's the type of boy that wants to soldier on with things. He made a quick recovery from his first injury and came back a lot quicker than we thought he would.
"If we bring him back too soon it could go altogether, so we can't rush him back."