Chelsea boss Jose Mourinho wants Didier Drogba reunion
Last updated on .From the section Chelsea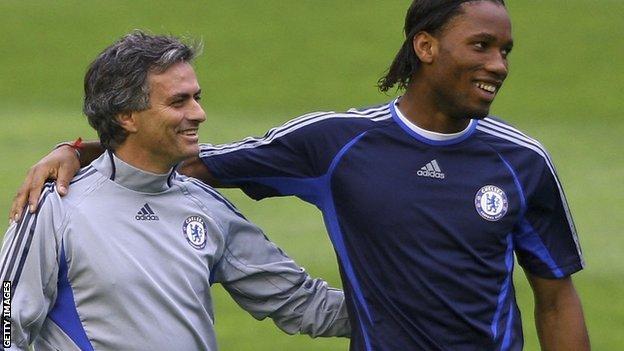 Chelsea manager Jose Mourinho wants to be paired with former Blues striker Didier Drogba's Galatasaray in the last 16 of the Champions League on Monday.
"Galatasaray is very difficult but I would like Didier to come back here and feel what I felt," said Mourinho.
Blues could also meet Leverkusen, Zenit St Petersburg, Olympiakos or AC Milan.
Chelsea finished top of Group E courtesy of a 1-0 win over Romanian side Steaua Bucharest, ensuring they will not be drawn against fellow group winners Real Madrid, Paris St-Germain, Bayern Munich, Borussia Dortmund, Atletico Madrid and Barcelona.
Under Uefa rules, they are not allowed to face a fellow English side in the last 16, or Group E rivals Schalke when the draw happens on Monday.
Mourinho believes there is stiff competition amongst Chelsea's potential opponents, even if he misses out on a reunion with Drogba, who scored 157 goals in 341 appearances for Chelsea before leaving for Chinese side Shanghai Shenhua.
"In the second position we have difficult teams," he said.
"We have the Russian champions, we have the Greek champions.
"Leverkusen, as a German team, is always difficult. We have the Turkish champions with King Didier.
"And Milan is Milan. They only won seven times. It's hard."
Despite Chelsea's victory in the tournament in 2012, Mourinho has previously said his side's chances of winning the Champions League are "not comparable with those of other clubs" while he works on rebuilding the team.
However he admitted that could change depending on how their domestic campaign progresses before the competition resumes in mid-February.
"We will wait for the result of the draw, forget about the Champions League until February, March, and work to improve the team," he said.
"When we get results in the English competitions we are preparing ourselves for the next stage of the Champions League.
"Let's go for the last 16. If we win the last 16 and go to the quarter-final, in the quarter-final, only eight teams. We can think in a different way."
Mourinho said that he was unruffled by green laser pointers that away fans aimed at him, prompting a warning over the stadium announcer.
"I can't worry about that during the game," he added.
"I don't know if it can create problems or not. But during the game I felt it a couple of times. I felt the green, I felt no pain."