Champions League: Neil Lennon hurt by weak Celtic performance
Last updated on .From the section Celtic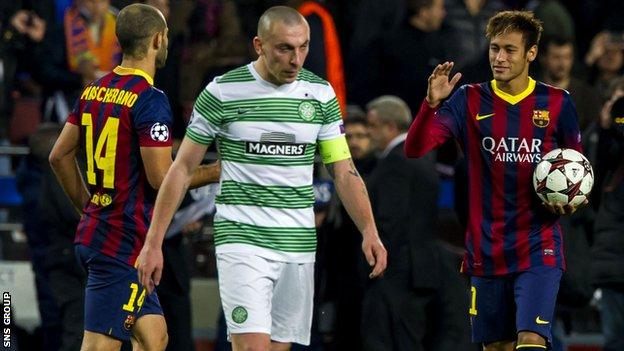 Neil Lennon says Celtic's "half-hearted" show in a 6-1 Champions League loss to Barcelona was "unacceptable".
The defeat at the Nou Camp equalled their heaviest European loss.
"I wouldn't say some players gave up but it certainly looked that way at times," said manager Lennon.
"I'd never accuse a player of doing that but there were a lot of half-hearted performances out there. As a manager, that's the most disappointing aspect of the whole game."
Barca forward Neymar scored a hat-trick as Celtic were completely outplayed, triggering memories of their humbling at Artmedia Bratislava in 2005, when they were beaten 5-0 by the Slovakians in the first leg of a Champions League qualifying tie.
"There were only two or three players that showed anything," said Lennon, singling out Virgil van Dijk, Adam Matthews and Mikael Lustig.
"I excuse the goalkeeper in that as well, but the rest of the team were very, very poor. They were well below the standards they've set themselves over the past few years.
"Barcelona were fantastic, as we expected them to be, but we were very poor. For some of the players, that was an unacceptable performance."
Lennon, whose side memorably beat Barcelona in a Champions League group game at Celtic Park last season, added Wednesday's display was "nowhere near reminiscent" of past performances against the Spanish giants.
"There was no bravery on the ball tonight," said Lennon. "We started off nervously and it looked like our heads went down at 2-0.
"We changed it and tried to be a little bit more defensive by going 4-5-1, but that didn't stop the blood flowing."
Gerard Pique began the onslaught in the seventh minute before Pedro doubled Tata Martino's side's lead.
Neymar's hat-trick came from delightful combined team moves with wonderful individual skill from the Brazilian.
Cristian Tello rounded the scoring off for the hosts, leaving Georgios Samaras to head in a late consolation goal.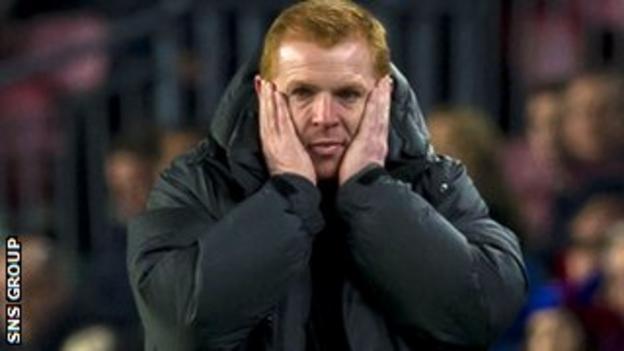 "We came here on the back of two great results at home and with an idea of trying to finish the group with some sort of positive result," added Lennon, whose side finished bottom of Group H with one win from six games.
"I didn't get the performance and I certainly didn't get the result. I'm angry and I'm disappointed, but it's something I have to get over very quickly.
"Looking at the team, I sensed they were a little bit quieter before the game, so we tried to get them motivated for going out there.
"But you could see straight away there were some really loose passes and we didn't play anywhere near our strengths. Some players didn't do the jobs they were assigned to do."
Lennon touched on the difficult balancing act he has in trying to sign Champions League-quality players in the short space of time after guaranteeing qualification for the tournament's group stage.
This season's acquisitions have failed to match up to the contribution of the likes of Victor Wanyama and Gary Hooper, who moved to Southampton and Norwich respectively.
"Players sometimes won't come unless you've got Champions League football guaranteed," he added.
"Then after that it's pretty difficult to attract the right kind of player that you want in a two-week window."