FC St Gallen v Swansea City: Laudrup confident of progress
Last updated on .From the section Swansea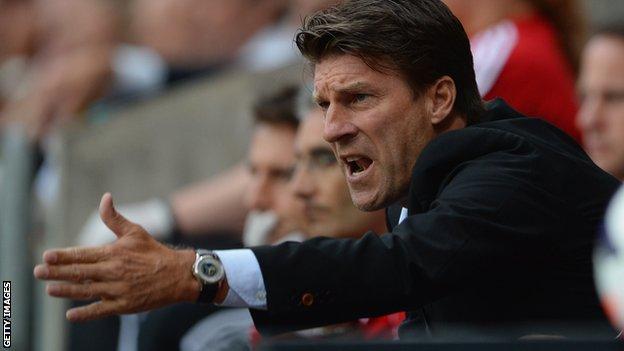 Swansea City boss Michael Laudrup believes his side cannot rely on other results as they bid to reach the knockout stages of the Europa League.
The Swans need a point from their trip to Switzerland against St Gallen on Thursday to make the last 32 of the competition.
Anything less than a win for Kuban Krasnodar away to Valencia, will see Laudrup's side through.
"I'm very confident we will do it," said Laudrup.
Swansea City's preparations for the crunch Europa League clash at St Gallen have been disrupted after their departure to Switzerland was delayed.
The Premier League side were due to fly out at 10:00 GMT on Wednesday but were hit by fog and then a technical problem on the plane.
They eventually left at 17:20 GMT on a replacement plane but arrived too late to have a training session.
Laudrup was not with the squad, having travelled independently to Zurich.
"Certain things we just really can't do anything about and the weather is one of them," said Laudrup.
"We just have to accept things how they are.
"It's not ideal. We have some players (Wilfried) Bony, Angel (Rangel) especially, a couple of players with bruises and a little more from Monday's game.
"Whatever happens tomorrow (Thursday), we have to get out to see some of those players to make a check to see if they can play tomorrow before deciding the last couple of places in the starting 11."
The former Denmark, Real Madrid and Barcelona star believes the Swans will have to get a result to qualify for the last 32 of the Europa League.
"I think we have to do it," he said.
"I know that people are saying that Kuban will never win in Valencia and in normal circumstances I would agree.
"But this time I'm not so sure. Valencia is already top of the table, they've already won the group and they've an extremely difficult game away to Athletico Madrid on Sunday.
"I think it is possible that Kuban could win tomorrow (Thursday) in Valencia.
"It means we have to do it ourselves.
"We have the chance really to move onto the last 32.
"That would just be great but first we have to do a job tomorrow (Thursday)."