Swans not taking Swiss lightly in Europa clash - Ben Davies
Last updated on .From the section Swansea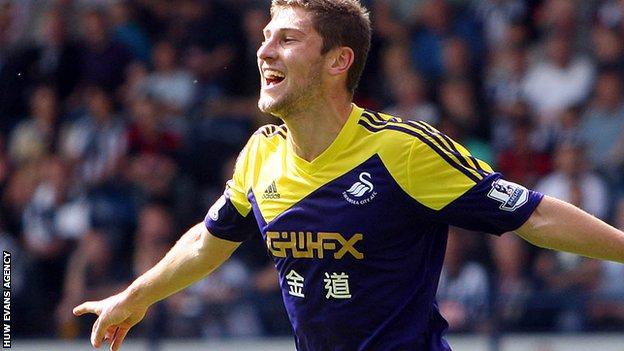 Swansea City defender Ben Davies says the club are leaving nothing to chance as they bid to make the knockout stages of the Europa League.
The Swans need just a point away in Switzerland to St Gallen on Thursday to go through.
Despite beating their Group A opponents earlier in the competition, Davies says Swansea will not be complacent.
"We are going to go into it ready for anything they throw at us," said Davies.
The Swans may be able to qualify even if they lose on Thursday.
If Russian side Kuban Krasnodar fail to win away to group champions Valencia, the Swans will go through to the last 32.
But Welsh international Davies says the Swans cannot rely on any favours from their Spanish rivals.
"We've got to go out there and put a good performance in," said Davies.
"I'm sure if we do that we'll be able to come away with the result."
St Gallen are currently bottom of the group but Davies believes the Swiss Super League outfit are better than their league standing would suggest.
He says the Swans were being impressed by them in their last meeting at the Liberty Stadium in October.
"They put a good performance in and they were a very well organised side and made it difficult for us," he said.
"I don't think they've got anything to play for now which may dampen their spirits a bit, but we can't afford to look at it that way."
Swansea City made a flying start to group A, with a 3-0 win away in Valencia, but squandered opportunities to qualify sooner.
In their last three matches the Swans have lost to Valencia at home and drawn twice against Kuban Krasnodar conceding two added-time equalisers.
Davies admitted there's slight disappointment that the Swans haven't gone through already, especially the way in which they were twice denied wins against the Russians.
"I think we needed to learn to close the game out earlier on in the two games [against Kuban Krasnodar] than we did," he said.
"It's a bit of a disappointment not to [be through already] but we've got to learn our lesson from that and pick ourselves up and go again.
"We can't worry about that too much. What's done is done and we go into the game needing the result we do."
"I think looking at where we are now, how much we've done this season is actually pretty good for the Swans.
"I think we probably haven't reached the heights that people want us to, but if we're 10th in the League and nearly through in the Europa I don't think we're doing that bad."