Celtic wait for Uefa to deliver its verdict on fans' 'illicit banner'
Last updated on .From the section Celtic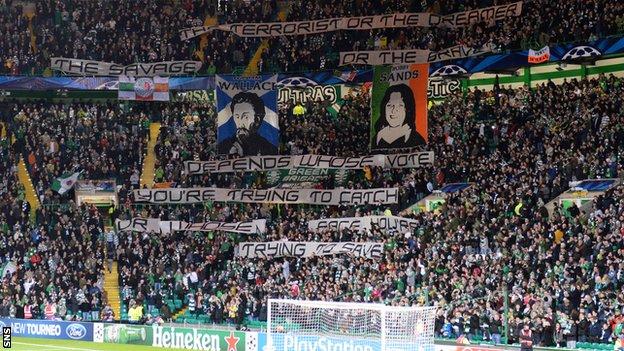 Celtic must wait until Friday to find out what action they will face over banners displayed by fans during their Champions League clash with AC Milan.
Uefa's control and disciplinary body met on Wednesday to discuss an "illicit banner" featuring images of Bobby Sands and William Wallace.
Rules prohibit political and ideological messages being displayed.
Celtic chief executive Peter Lawwell asked supporters to cease such displays after the action was announced.
"The disciplinary decision is due to be announced and communicated by Uefa on Friday afternoon," said a spokesman for the European governing body.
"We will inform of the decision as soon as we receive it from our disciplinary unit."
Manager Neil Lennon admitted his "heart sank" when he saw the display at the 3-0 home defeat by AC Milan on 26 November, arguing it was neither the time nor place for such a demonstration.
The banner featured a slogan alongside images depicting the IRA hunger striker Bobby Sands and the Scottish historical figure William Wallace.
The supporters' group responsible for the banner, the Green Brigade, insisted the banners were football-related as they protested against the Scottish Government's Offensive Behaviour at Football Act and Police Scotland's implementation of the legislation, which they claim has criminalised expressions of Irish politics.
The club have since moved to separate the group at home matches after a number of seats were vandalised in the section containing Green Brigade members, and pyrotechnics were let off and thrown on the pitch, when Celtic beat Motherwell at Fir Park last Friday.
The club handed "precautionary suspensions" to 128 supporters, preventing them from attending home and away matches, while 250 season-ticket holders housed in section 111 - the Green Brigade's corner of Celtic Park - will be moved to other parts of the ground or given refunds on season tickets.