Sergio Torres: How brick maker realised Manchester United dream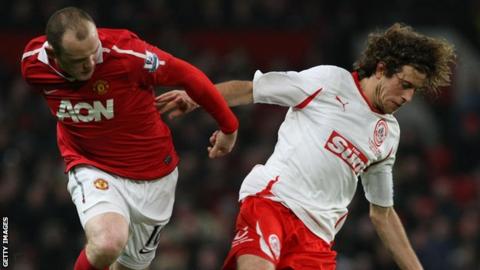 Ten years ago, on a cold November evening, Sergio Torres was spending his first night in England, sharing a bed with a man he had never met.
Staring into the darkness, he began to question whether the decision to leave his sunny hometown on the east coast of Argentina, with just £180 to his name, to pursue a football fantasy, was such a good idea.
"This Cameroonian agent - I only remember that his first name was Roland - picked me up from the airport and took me to one of his houses in south London," the Crawley midfielder told BBC Sport, recalling his plan to forge a football career in the UK.
"I was so tired I went to sleep and an hour later somebody woke me up and said: 'Move over, I'm sleeping here too.'
"I just looked out the window thinking: 'Who's told me to come here?' Back home I had family, a job, my own bed. Now I'm sharing a bed with a complete stranger, 15,000km from my house, I can't speak the language. The first two months were very difficult.
"I didn't sleep at all that first night. I was just looking at the ceiling, trying not to move."
Aged 22, while playing fourth-division football in Argentina and working part-time at his family's brick factory, Torres was told a professional career was beyond him.
Now, although not a household name up and down the British Isles, the 32-year-old has 226 Football League games to his name for Wycombe, Peterborough, Lincoln and Crawley, as well as a League Cup semi-final outing and an appearance at Old Trafford against Manchester United.
But the sun-filled days of his time at home in Mar del Plata have not always followed him on his journey.
An initial rejection after a trial at Brighton was followed by spells at minnows Molesey and Basingstoke - and also a stint in the warehouses at a high-street chemists. Then there was a battle with depression during his Peterborough days.
It has been a hard slog - although perhaps not has tough as lugging around bricks in the baking South American heat.
"I knew that back home, by the age of 21 or 22, if you're not playing in the top division then it is very hard to make a living," he said.
"I was working in a brick factory with my dad and said: 'I don't want to be doing this all my life.'
"It's so heavy. In the summer it's about 40 degrees and you have these massive ovens to cook the bricks. It's sweaty and dirty.
"So I saved money and paid for the tickets to England.
"In Argentina, we think the English hate us. The majority of people in Argentina don't like England because of the Falklands.
"Everyone's asking me why I'm not going to Spain or Italy. Even I was asking that of my agent. He said my play would suit the English style.
"I've told my friends and family how wrong we were about the English people."
The initial introduction to English football was as could be expected: Foreign player gets lumped all over a training pitch - in this case, Brighton's. If you have seen the film Goal!, you will know the script.
"Every time I watch that movie, it reminds me of my beginnings here," said Torres.
"I got kicked for fun, it was raining. It was so English. I couldn't handle it."
It took Torres, a midfielder with bursts of energy on the ball and a tireless disposition off it, three years to find a professional club willing to take a gamble on his signature.
Supporters of non-league Basingstoke appreciated the presence of Torres, and his countryman Cristian Levis, who had been embarking on a similar adventure, between 2004 and 2005.
The Argentine pair would live with a fan for a number of months, and set off at 6am on bicycles to their jobs at the warehouse, before a quick siesta and then evening training.
"A Basingstoke fan said we could go and live with him. He got married two months before," Torres recalled.
"We went to meet his wife and she wasn't very impressed. Her face wasn't very friendly.
"They just let two Argentines stay in their house for about four months. We're good friends now. It was great fun."
The big break came when Basingstoke faced Wycombe in a pre-season friendly in the summer of 2005.
The South American with the big hair and everlasting batteries caught the eye of the Chairboys' then-boss John Gorman.
"Basingstoke lost 8-2. Even though his team were beaten so badly, I was so impressed by him," said Gorman.
"He was up against (former England and Newcastle midfielder) Rob Lee. He just never gave up.
"The fans loved him straight away. His big curly hair was a big thing here.
"He's never had the Rolls Royce treatment. He's had to do it all on his own."
Adopted as a cult hero at Adams Park, Torres played 98 times for the Buckinghamshire side.
But the strain of a £150,000 move to Peterborough in 2008, and a subsequent lack of first-team chances, took its toll emotionally.
"I had a very difficult time. I was very close to going back home," he said of his time at London Road.
"I couldn't handle the fee. It was too much.
"I got to a point where I didn't want to go to training and I was scared of touching the ball. I couldn't see the way out.
"My team-mate at the time, Craig Mackail-Smith, recommended I see this sports psychologist. He really helped me.
"People outside football think you do what you love - so why are you depressed? But there's pressure and when things aren't going well, it gets to your head."
A loan spell at Lincoln and then a permanent move to Crawley three years ago coincided with a lift in his mood.
Not only did the Sussex side go on to claim two promotions from the Conference Premier to League One, but in February 2011 they also faced Manchester United - Wayne Rooney and all - in the fifth round of the FA Cup, a meeting that ended in a 1-0 defeat.
"It was the biggest achievement for me ever. The first game I ever watched after coming to England was at Old Trafford," he said.
"I dreamed of playing there one day but I was just signing for Basingstoke at the time.
"When it finally happened, I was thinking back to working with those bricks. That's when my journey had finished really."