Katumbi reveals TP Mazembe ambitions
By Kennedy Gondwe
BBC World Service, Lusaka, Zambia
Last updated on .From the section Football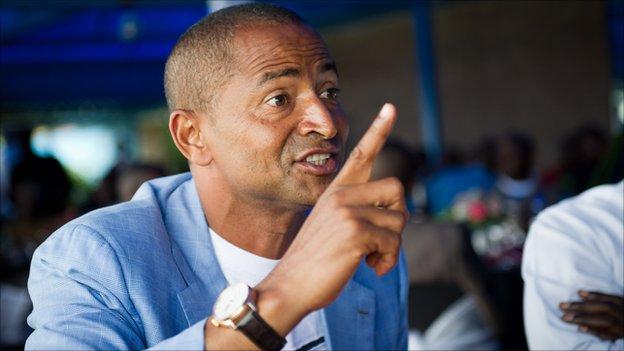 TP Mazembe chairman Moise Katumbi has revealed his plans to make the club a major force in the world game.
Katumbi believes he can turn the Congolese side into one which will ultimately win the FIFA Club World Cup.
Despite Mazembe's defeat in last month's Confederation Cup final to Sfaxien, Katumbi is already looking to next season and beyond.
"Our objective is to be very competitive and I believe we can achieve that with what we have here.
"If we can build on our strong foundations, there's no reason why Mazembe cannot win the Club World Cup one day," Katumbi told BBC Sport.
In 2010, Mazembe were the first African team to reach the Club World Cup final but lost to Italian giants Inter Milan.
After their dalliance with the Confederation Cup this year, the Lubumbashi-based outfit will be back in the Champions League next year.
A fifth African crown would give them another shot at the global showpiece.
"We have very talented youngsters coming through the academy; give us a maximum of three years and you're going to see them win the World Cup.
Mazembe won back-to-back African titles in the late 1960s but struggled to make an impact until Katumbi took over and revolutionised the club.
He has invested heavily, making funds available to strengthen the squad, building a brand new stadium and purchasing a plane for the team.
His plans for global domination are underpinned by a recruitment policy that has brought in players from Tanzania, Ghana, Zambia, Cameroon, Botswana and most recently Malawi.
Most of Mazembe's players are well paid by African standards, part of Katumbi's strategy to stop the exodus of African talent to Europe.
"The best African players are in Europe and they go there because of the money," said Katumbi, governor of the DR Congo's mineral-rich province of Katanga.
"African leaders must do something to improve out football so that we keep our players and improve our local football leagues.
"At Mazembe we sign players from other countries to show unity because Africa is a very good continent but we fight each other every day, killing each other for nothing.
"As chairman of the team, I want to demonstrate that we can use football to bring our different people together."
He said nothing else has the ability to capture people's imagination quite like football.
"I have seen football around the world and have never seen fans with so much passion, so much belief and so much expectation as Africans."