Manager and chairman leave Workington as group buys stake
Last updated on .From the section Football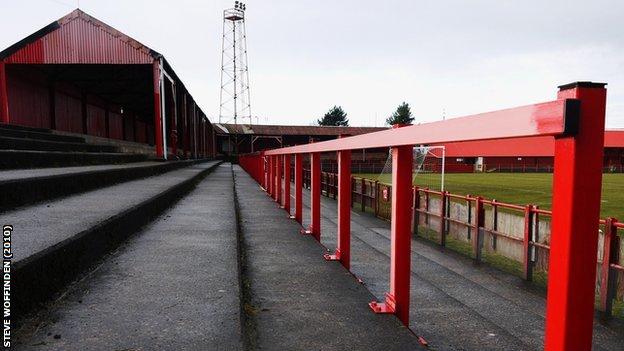 Workington chairman Humphrey Dobie and manager Darren Edmonson have resigned.
Edmondson was recently given permission to speak with Conference North rivals Barrow about their managerial vacancy.
Meanwhile, a Hong Kong-based group have bought former Workington chairman Dale Brotherton's 38% stake in the club and become the majority shareholders.
In May, they brokered a deal for in exchange for sponsoring the Reds' home kit, helping fund them over the summer.
Dobie, 81, has been Workington chairman for seven years, initially joining the board in 2000.
North East businessman Glenn Heathcote has been named as Workington's new chairman after, along with fellow board incumbents Don Blackwell and Keith Nelson, working with the club since the summer.
Heathcote is managing director at North Shields-based firm John Lilley & Gillie, a developer and supplier of nautical equipment, whilst also being a director of their Singapore-based sister company.
Former Carlisle defender Edmondson, 42, ends a six-year spell as manager.
Coach Gavin Skelton will take charge of Tuesday's game at Oxford City.