Football fixing claims: Alan Shearer calls for zero tolerance
Last updated on .From the section Football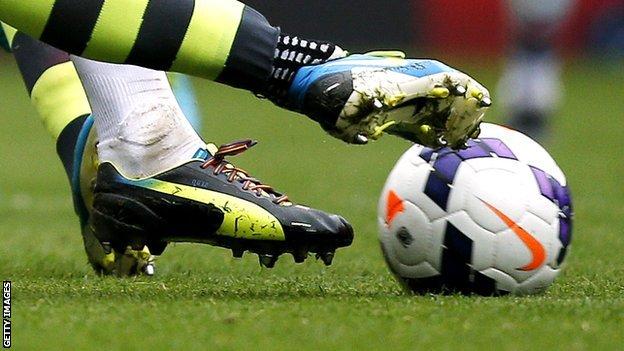 Former England international Alan Shearer says there needs to be a zero tolerance policy to anyone found guilty of fixing in football matches.
"You are never going to stop betting but you have to stop the people inside," Shearer told BBC Radio 5 live.
"It just cannot happen. If anyone is found guilty then there should be zero tolerance."
Blackburn striker DJ Campbell was one of six people questioned by police in connection with fixing in football matches.
The arrests were made following a story in the Sun newspaper on Sunday in which ex-Portsmouth player Sam Sodje told an undercover reporter he could arrange yellow and red cards in exchange for cash.
Following the allegations, the government's Culture Secretary Maria Miller called a meeting with leaders from football, cricket, horse racing, rugby league and rugby union.
Football Association general secretary Alex Horne said it had been "a very positive meeting".
He added: "The intelligence that we have is that this isn't a wide-scale issue at the moment but we don't want to be complacent.
"We don't want to see this in our sport and so, therefore, we are doing everything we can.
"We really welcome the impetus behind the National Crime Agency, it's going to be a really important body for all of us in reminding people that these are criminal activities and that the criminal nature of these activities shouldn't be underestimated."
Staines Town manager Marcus Gayle, a former striker for Wimbledon when they were in the top flight, says match-fixers recently approached one of his players.
He told BBC London: "I was disgusted that it is still around in the game.
"In previous years, you hear of little conversations but you don't believe they are actually true.
"We've had a recent incident in an approach towards our club and a player but we had to do the right thing. We reported it less than 24 hours later once we knew what was going on.
"One of the players led a meeting and I am proud of that. There was anger as there are careers at stake.
"I have got players who want to progress higher than this level and make it into the pro ranks.
"We are trying to educate them that betting is illegal and they are fully in the know on how to conduct themselves."
In a separate investigation, the NCA is examining claims that an international betting syndicate was involved in match-fixing.
Four people, including two Conference South players, have been charged with fixing-related offences as part of that investigation.
Earlier this month, two English footballers were fined after admitting to helping to fix games in Australia for a global betting syndicate.
Anti-corruption agency Transparency International believes educating players and officials is the key to combat the problem of fixing in sport.
It runs one of five schemes being funded by the European Commission to raise awareness of the issue, while it is working with leagues in six countries - including in the United Kingdom - to develop and pilot education programmes.