Fan flares: Falkirk issue severe injury warning
Last updated on .From the section Falkirk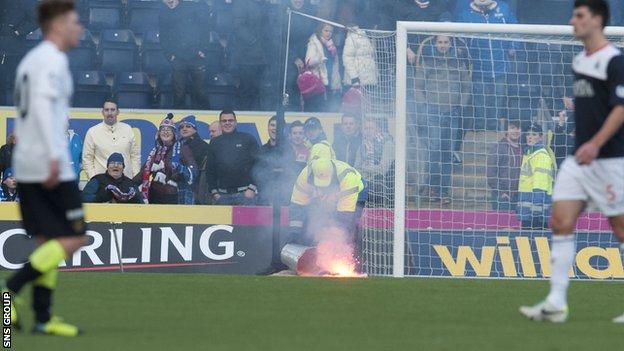 Flares and smoke bombs need to be stamped out of Scottish football before they cause severe injury, Falkirk's general manager has warned.
"What really surprised us was when they told us that these things burn at 1600 degrees," said David White after the Championship club's pitch was repaired.
"So you can imagine the damage that could do if it actually hit someone."
Flares and smoke bombs, combined with damage to seating, at Motherwell's Fir Park on Friday has led Celtic to suspend a group of its support.
But it was only the latest incident involving fan-ignited pyrotechnics at Scottish grounds this season.
White told BBC Scotland that the pitch company came over from the Netherlands and repaired Falkirk's surface in a couple of days.
"At a cost though," he said. "It is going to be a four-figure sum, but Rangers have kindly agreed to reimburse the cost of the repair of the damage.
"The damage it did to the actual surface was bad enough. But, if it actually hit someone, it could cause considerable personal injury.
"When it started off, it was smoke bombs and those are bad enough for anyone who suffers from asthma or those kinds of breathing conditions, who find that a disturbing circumstance.
"I think when it becomes flares, it is really becoming a threat to personal injury and that's something we need to stamp out."
White thought the Scottish FA and Scottish Professional Football League had to become more involved in tackling the problem.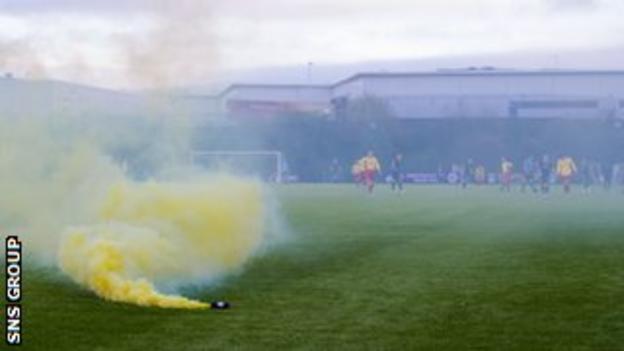 "Basically, they have come on and said that we have to work harder as clubs to stop this happening in the first place," he said.
"But I think it's going to need a joint initiative. It is almost an education programme that's going to have to be led by the SFA and by the SPFL to get this message over to fans that this is unacceptable."
White explained that it was not easy for clubs to tackle the problem on their own unless they carried out body searches of every fan on entry.
"It could eventually have to come to that, but we're trying to avoid that for obvious reasons," he said.
"It is very difficult, because on that occasion, we had 95 stewards in attendance as well as a sizeable police presence.
"But you can't individually frisk everybody that comes into the ground.
"So it is a challenge and it's something we're going to have to work hard to try to sort out how we can deal with these problems.
"I think the internet has its advantages, but this is one of the disadvantages that it gives people access to these devices and how they actually transport them through the mail, we need to look at ways we can stop this coming into the country."