Setanta Cup fighting for survival
By Alvin McCaig
BBC Sport NI
Last updated on .From the section Football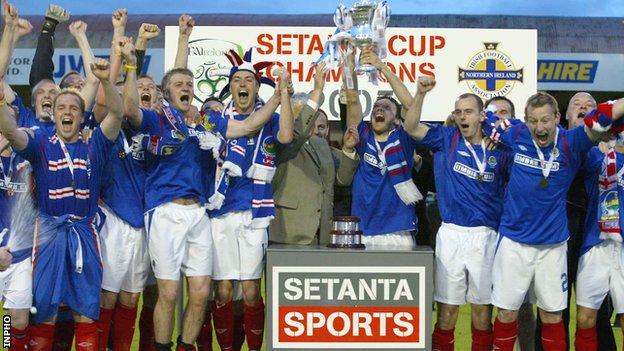 It was a good idea at the time, but the Setanta Cup will be lucky to see out a decade in existence.
Irish League heavyweights Linfield and Cliftonville may have inflicted a fatal blow by pulling out of this season's All-Ireland tournament.
This was no shock announcement, for the novelty has long gone, along with the competition's allure.
League champions Cliftonville cite fixture congestion for their decision while the Blues point to other issues.
"The scheduling of the Setanta Cup games in the springtime, when teams from Northern Ireland are approaching the closing stages of their domestic league and Irish Cup competitions, tends to be less favourable to clubs in the Danske Bank Premiership," said Linfield.
"This club will always prioritise the league title as the prime target and focus in every season.
"With a much reduced prize fund available to competing clubs, and also taking into account the considerable difficulties faced by our supporters travelling to attend games, the Board of Directors has taken the decision not to enter the competition."
The Setanta Cup simply isn't worth the hassle for the two Belfast teams.
It was so different back in 2005, when the Celtic Tiger roared and Linfield flew the Irish League flag as inaugural winners.
In a time of hope and aspiration, the tournament was mooted as a forerunner for an All-Ireland League.
Now it's a shadow of its former self - starting with prize money of 350,000 euro, it is now down to 73,000.
Crusaders are the only other Irish League side to triumph, amid overwhelming southern superiority.
This embarrassing mismatch has led to humiliating defeats for northern teams, and a competition devoid of competiveness is surely doomed.
The inclusion of Coleraine and Ballinamallard United, filling the void left by Linfield and Cliftonville, merely exacerbates this unhealthy imbalance.
Milo Corcoran, chairman of the tournament committee, said on Monday that "the competition has grown in stature since it began in 2005".
Few would agree, for this is now a rescue mission and enticing the Irish League pair back is a necessity for survival.
A cash boost and switch to autumn fixtures are the only options left to achieve this, but both are not feasible at present.
It was supposed to be limited to the elite, the cream from two leagues in a best against the best showdown, with fans flocking across the border.
Built on good intentions, it is facing the fate of so many idealistic projects, floundering under the weight of cold reality.