Mat Sadler: Crawley must show grit for John Gregory
Last updated on .From the section Football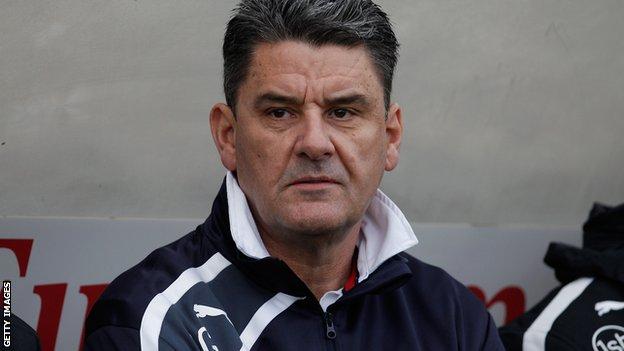 Crawley Town defender Mat Sadler says new manager John Gregory will expect a hard-work ethic from the side.
"We are under no illusions how we need to be to stay in the team under the new manager," Sadler told BBC Sussex.
"We need to go out with performances full of grit and determination, along with that bit of quality which hopefully we will continue to show."
Left-back Sadler, 28, added: "He [Gregory] came in and shook things up a little bit.
"We have enjoyed the last few days, getting to know the manager and him getting to know us.
"He is trying to give us that push and that spark that had maybe gone missing in the last couple of weeks.
"As soon as he came in he made us all aware of exactly what he expects and wants from us."
The Reds have scored just one goal in their past eight games in League One and Sadler says Gregory intends to play a more direct game, rather than the passing style favoured by his predecessor Richie Barker.
"The emphasis was on possibly being a bit more of a threat in more threatening areas and maybe not playing too much football in our own half where we are not going to hurt teams," Sadler said.
"We'll try and play football in areas where we are going to hurt teams and then when we are out of possession trying to win the ball back in areas where we are going to hurt teams.
"Going forward that will carry on being the philosophy and that will carry on being the way we try to play, with the basis of all that underpinned by a real strong worth ethic and a real togetherness."
Gregory, back in management in England for the first time since being sacked by QPR in 2007, praised his side's "passion and effort" in the draw at Bristol Rovers in the FA Cup, which earned the West Sussex outfit a second-round replay.
"It is hard trying to transfer all your thoughts and ideas," Gregory told BBC Sussex.
"I often use the quote 'Teach someone a hundred things and they will forget 99 of them'.
"There are loads of things I would like to work on but just haven't got the time. I don't want to fill the players' heads with too many new things so I have tried to keep it as simple as possible.
"There is still a lot of work to be done and we will get on the training ground and make sure we keep improving."