Celtic suspend fans after damage to Motherwell's Fir Park
Last updated on .From the section Celtic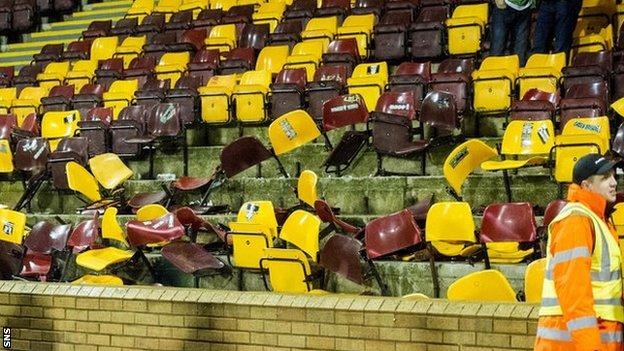 Celtic have suspended 128 fans from their matches and relocated 250 season-ticket holders following damage caused to Motherwell's Fir Park on Friday.
The Green Brigade group of fans on Sunday said it regretted the scenes and admitted that it should have better policed its section of supporters.
But the club have decided to move fans from Section 111 of Celtic Park.
The news came as the Scottish Professional Football League described the scenes at Fir Park as "shameful" and promised an investigation once it receives its match delegate's report within the next 48 hours.
The Green Brigade is a group of fans known for banner displays and chanting who attend home games in Section 111 of the stadium.
Uefa opened disciplinary proceedings against Celtic following banners displayed at the Champions League game against AC Milan with a slogan depicting Scottish warrior William Wallace and IRA hunger striker Bobby Sands.
Celtic and Scottish Police have already with the football club already taking action following the estimated £10,000 worth of damage.
The Scottish champions said they had issued "precautionary suspensions against 128 individuals preventing them attending matches involving Celtic, pending further investigation".
These suspensions will cover matches away from home as well as at Celtic Park.
Celtic say they will also be relocating around 250 season-ticket holders in Section 111 to other areas within the stadium, or offering refunds covering the remainder of the season to those who do not wish to be relocated.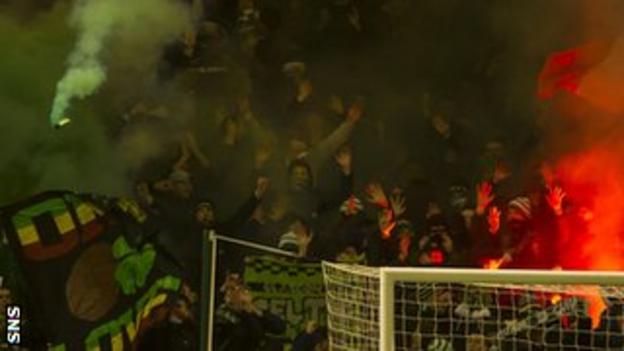 "These events were an embarrassment to our great football club and are absolutely indefensible," said a club statement.
"It is clear that there is an element which has no hesitation in bringing Celtic's name into disrepute.
"This is something the club will not tolerate and we therefore have no other option but to take this action.
"We will not allow the great name of Celtic to be damaged in this way any more. Our supporters deserve more than this."
While insisting that none of its members were involved in Friday's events, the Green Brigade admitted that it had happened in an "unofficial Green Brigade section".
The group had already been criticised by the club over political banners displayed at Celtic's Champions League game against AC Milan last month that led to Celtic being called to a disciplinary hearing on Wednesday by European governing body Uefa.
Celtic's latest statement urged the supporters to unite behind the club in taking action to "protect vigorously" what it said was a "wonderful reputation" of its fans.
The SPFL has yet to decide whether to take action and the next stage of any disciplinary action might not become clear until the start of next week.
However, it issued a statement pointing out that, under its rules, the visiting club should recompense the home club for any damage caused by their support.
Should the clubs fail to agree on a compensation figure, the league body would adjudicate on the matter.
SPFL chief executive Neil Doncaster said: "We have already been in touch with both clubs and the police following the disturbances during Friday night's fixture at Fir Park.
"We absolutely condemn this type of behaviour. It has no place in the game.
"We are confident that the police and both clubs will play a full part in helping to identify those involved in what were shameful scenes.
"We expect the SPFL match delegate report to be with us within the next 24-48 hours.
"The SPFL will work closely with our colleagues at both clubs and with the police as part of a thorough investigation into Friday night's events."