Rangers: Fans group Sons of Struth demands board changes
Last updated on .From the section Football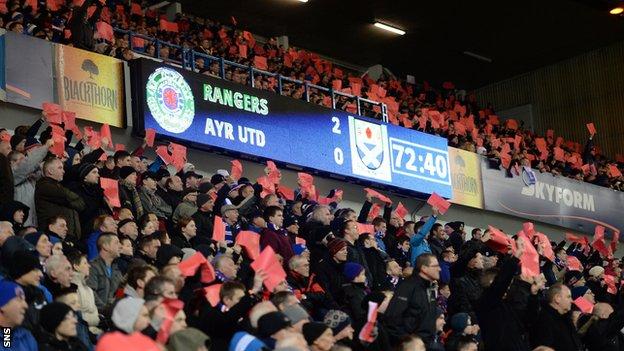 A Rangers fans group that organised a red-card protest at Ibrox is writing to the club's top 50 investors appealing for their help to force board changes.
The Sons of Struth led the display against the current directors during
It wants the investors controlling around 90% of Rangers shares to vote for changes at the annual meeting.
Spokesman Craig Houston said: "We're saying to the major investors: 'Don't turn your backs on the fans'."
The Sons of Struth describes itself as "a body of like minded Rangers fans who hold dear the values of" much revered former manager Bill Struth and claims to have the backing of most of the club's supporters groups.
In its statement to investors controlling around 90% of the club's shares, the Sons of Struth will ask them to "stand with the vast and overwhelming majority of the fans and demand change on the board at Ibrox".
It urges investors to "recognise the strength of feeling amongst Rangers support about the way the club is being run".
Rangers' AGM on 19 December will be the culmination of
chief executive Graham Wallace, finance director Brian Stockbridge and non-executive director James Easdale all face a re-election vote.
However, four rebel shareholders - former director Paul Murray, former chairman Malcolm Murray, Scott Murdoch and Alex Wilson - will also have their bid to become directors decided upon by stakeholders.
Thousands of fans held up red cards supplied by the Sons of Struth at Ibrox on Saturday and Houston thought that the numbers who took part showed that most support those demanding board changes.
"Working with all the organised fan groups and the response we had from the fans in the stands shows without doubt that the board as currently composed does not enjoy popular support," he added.
"To protect their investment and for the club to flourish, the investors have to stand with the fans. It's time for change."