Conference promotion rules outdated - Richard Money
By Chris Osborne
BBC East Sport
Last updated on .From the section Football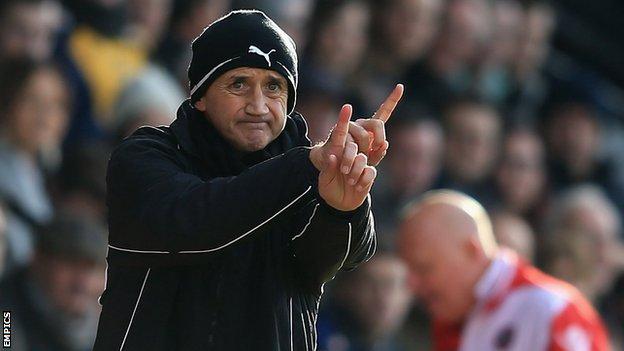 Cambridge United boss Richard Money believes it is a "nonsense" that only two non-league teams go up into the Football League each season.
Only the top Conference Premier side and the play-off victors are promoted.
"Somebody somewhere must, must look at the rules. They are so outdated it is unreal," former Luton manager Money told BBC Radio Cambridgeshire.
"To have one team automatically promoted from this league is a nonsense, and it has to change."
back to non-league since automatic promotion was introduced between the Conference and League Two in 1987.
However, a change in rules to increase the number of promoted sides would have to be agreed by a majority of League Two clubs.
And in March, "It would mean three down from the Football League, and turkeys don't vote for Christmas."
Money, who twice took Luton to second place in the Conference Premier, but failed to get them promoted via the play-offs, added: "There is no doubt that there are at least six teams in our division that would more than hold their own in the division above.
"[Former non-league sides] Oxford are top [of League Two], Fleetwood are third, Crawley are in League One, Stevenage are in League One. Somebody has to look at it.
"The Football League might be a little bit insular in terms of 'we'll protect ourselves'. There but for the grace of God any of them go down into this league - good luck."
Money's Conference Premier leaders were competitive in on Sunday, a tie they had earned by beating League Two strugglers Bury.
However, fellow Conference teams Grimsby and Kidderminster overcame Football League opposition at the weekend to progress to the third round
The Conference announced this week that their clubs had reduced their total debt owed to HM Revenue & Customs from £1.7m in the 2008-09 season to just £80,000.
And Conference chairman Brian Lee told the BBC's Non League Show this would help their bid to increase the number of teams of promoted.
He said: "We are meeting the Football League shortly and they will be pleased to know that our clubs are living within their means, so that any club that is promoted can look after itself.
"We'll push for three up and three down. It is on the agenda. If the clubs think it is fair and we think it is fair, all we can do is advance our case."