Celtic: Green Brigade regrets damage at Motherwell
Last updated on .From the section Celtic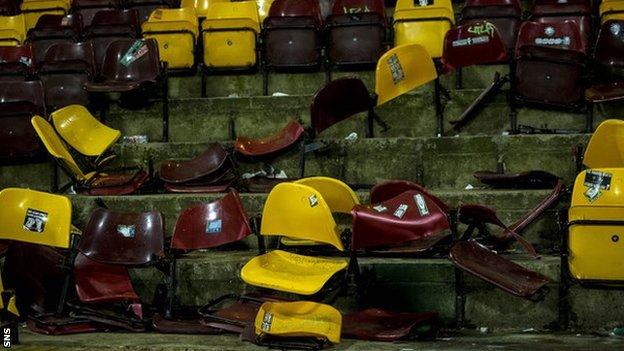 The Green Brigade group of Celtic fans has accepted some blame for estimated to be worth £10,000.
It has insisted its members were not involved but admitted it should have policed its section of fans better.
The Scottish Professional Football League could take action against Celtic when it receives its match delegate's report from the game at Fir Park.
Smoke bombs and flares were thrown as well as the damage to seating.
"Firstly, we do not condone the breaking of seats, nor do we welcome pyrotechnics being thrown on the park," the Green Brigade said in a statement.
"We as a group are as disappointed as any about such indefensible behaviour and regret that it happened on our watch.
"Whilst it was not members of our group behaving in this manner, we accept the fact that these actions took place behind our banner in what was an unofficial 'Green Brigade section' and furthermore that the fans within this area are associated to our group whether they are members or not.
"It is particularly disappointing given how hard we have worked as a member organisation of Fans Against Criminalisation and of our own accord to fight the criminalisation of football supporters.
"Ultimately, we should have had greater control of the bodies present within our block and our failure to do so has resulted in events which are unacceptable and we will strive to ensure that such scenes are not repeated."
Political banners displayed by the Green Brigade at Celtic's Champions League game against AC Milan last month have led to the club being
While no arrests were made inside Fir Park as the Glasgow club have launched their own investigation, while Police Scotland is looking into the "significant damage" caused to seats.
It reported 18 smoke bombs, three fireworks and one flare being set off, with two green smoke bombs being thrown into the goalmouth, one of them landing yards from Celtic goalkeeper Fraser Forster.
The main Celtic fans' group, the Affiliation of Registered Celtic Supporters Clubs, expressed frustration at the actions.
"We should be discussing another devastating Celtic performance on the pitch. Instead we are talking about disappointments off the field," said a statement.
"Let's make no mistake that incidents like at Fir Park and the publicity that this attracts makes any negotiations regarding ticket pricing, safe standing and policing at games more difficult.
"Any payment for damage and fines that are the responsibility of the club are ultimately paid by us. This is a measurable cost. The damage to our reputation as a support is unquantifiable."