Sunderland manager Gus Poyet says team 'not good enough'
Last updated on .From the section Football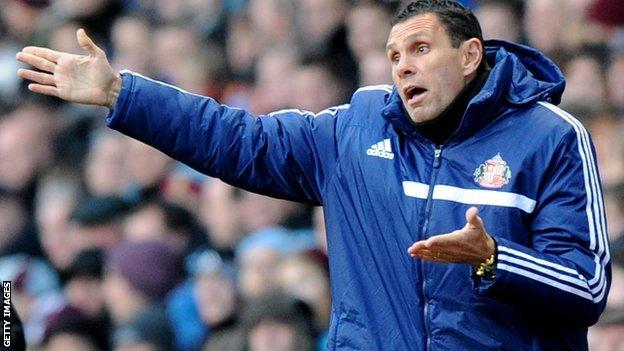 Manager Gus Poyet says his Sunderland side are currently "not good enough" and "too easy" to play against.
The Black Cats won three of Poyet's first five games but are bottom of the table, without a victory in four matches and five points from safety.
Reflecting on Saturday's 2-1 defeat by Tottenham at the Stadium of Light, the 46-year-old Uruguayan said: "You can't perform every now and then.
"With all respect, we don't get paid to do our job today but not tomorrow."
The club's sixth manager in five years, the former Chelsea midfielder succeeded Paolo Di Canio in October.
He secured early wins over Newcastle, Manchester City and Southampton, but the improvement in form did not last - and Sunderland have contributed to their own downfall with five own goals in Poyet's nine matches in charge.
Defenders Phil Bardsley and John O'Shea were the latest to score past their own goalkeeper, in defeats by Chelsea and Tottenham respectively.
"Luck is once or twice, but five own goals in nine games? No, I'm not taking that, I'm sorry," added Poyet, who played 26 times for Uruguay.
"At the moment, I see too many players of the opposition playing against us probably their best games of the season.
"Do you think that's a coincidence as well? You have to be very naive to think that."
Failure to take anything from Spurs' visit to the North East was compounded by Crystal Palace's victory over Cardiff, leaving Sunderland five points adrift of the Eagles, who are 19th.
Sunderland face 17th-placed West Ham at Upton Park in their next game.
"My job - I'm a head coach, I coach, I convince players what is the best way to play football," said Poyet.
"It's going to be like a hammer in your head constantly. Now if we can get it before Saturday, we have a chance. If we don't, it's going to be worse and worse, it's as simple as that."