Manchester United lack confidence, says Jonny Evans
Last updated on .From the section Man Utd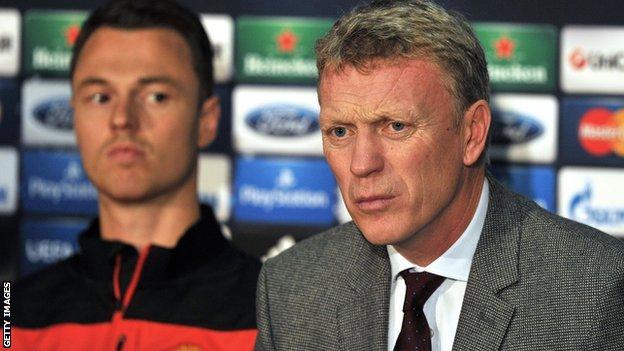 Manchester United central defender Jonny Evans says the side are being affected by a lack of confidence.
"The lads have lost a bit of confidence. You can tell that with the possession and creativity," said Evans.
"Players maybe are not playing how they naturally would. That happens when your confidence drops."
The Old Trafford club have struggled in the top flight this season under David Moyes, who took over in the summer following the retirement of Sir Alex Ferguson.
United have lost five league games so far this season, with three of those coming at home, and have taken just two points from their last four outings.
Their latest defeat against Newcastle saw them denied a penalty when a Patrice Evra header rebounded off the post and hit Vurnon Anita's arm before Yohan Cabaye's winner.
However, Moyes's side failed to mount any significant pressure in search of an equaliser Newcastle earned a first league victory at Old Trafford since 1972.
The result increased the problems Moyes is facing but Magpies boss Alan Pardew has backed his managerial counterpart for overcoming his troubles if he gets the same support Ferguson received.
Ferguson's job as boss of the Red Devils was at risk when he relieved the pressure on himself with victory over a Crystal Palace side containing Pardew in the 1990 FA Cup final.
"I have great respect for David," said Pardew.
"But I remember the FA Cup final in 1990 when they scored with eight minutes to go. They got out of jail because we should have won.
"They stood by him [Ferguson]. David might have to have a year like that where it's touch and go but he'll come through it because he's a strong man."
One of the characteristics of Manchester United under Ferguson was the pressure they put on sides when behind but that, as Evans describes, was missing against Newcastle.
"Usually whenever we're chasing a goal at Old Trafford, especially at the Stretford End, we put teams under an enormous amount of pressure," said Evans.
"But with the lack of confidence and creativity we didn't produce that. It is hard to put your finger on it.
"We lacked a bit of sharpness in our passing and were sloppy in possession which allowed Newcastle to get control."
United only lost five league games in total on the way to winning last season's title and, despite the side's struggles during the current campaign, Evans has refused to rule out winning the Premier League crown.
"It's difficult [to win the league] in any season," he said. "The fact we've lost five games already makes it harder.
"But we won't give up. We are professionals. We want to keep going until the end.
"The most important thing is when we put the Manchester United shirt on and go out at Old Trafford or away from home, we make sure we give everything."