Rolland Courbis to return to Montpellier as head coach
Last updated on .From the section European Football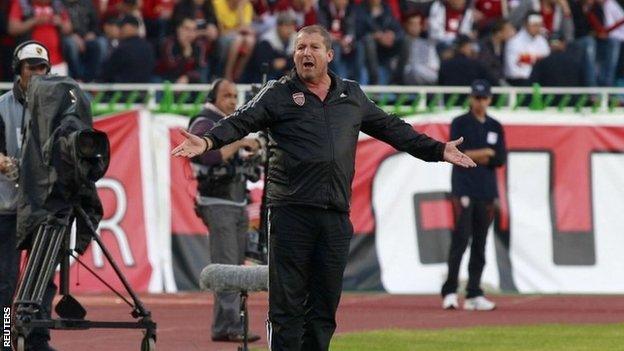 Rolland Courbis will return to Montpellier as head coach after the resignation of Jean Fernandez.
Fernandez quit this week after less than six months in charge following a run of eight games without a victory in all competitions.
And 60-year-old Courbis, who managed Montpellier from 2007 until 2009, will be appointed on Monday, president Louis Nicollin has confirmed.
Courbis was most recently manager of Algerian side USM Alger but left the club last month.
He spent several months in jail at the end of 2009 for taking bribes to buy and sell players while Marseille boss.
Montpellier have slipped to 17th in the Ligue 1 table, one place outside the relegation zone, going into Sunday's match at Toulouse.
Fernandez, 59, was named Montpellier boss in the summer, a year after Rene Girard had led the club to their first ever French title.
Girard fell out with club president Nicollin, who did not offer him a new contract at the end of last season.
In April, Nicollin confirmed that former Marseille, Auxerre and Nancy boss Fernandez would take over as manager on 1 July.
However, Fernandez only led them to two wins from his 16 league and one cup match in charge.
Montpellier finished ninth last season and 14th the year before their shock title success.
Assistant coach Pascal Baills, a former Montpellier defender, is in caretaker charge of this weekend's match.