2014 Fifa World Cup finals draw: England to play Italy
Last updated on .From the section 2014 Fifa World Cup791
England will play Italy, Uruguay and Costa Rica in a tough Group D at the 2014 World Cup in Brazil.
Roy Hodgson's men open their campaign against Italy in the Amazonian city of Manaus on 15 June in the only World Cup game which kicks off at 02:00 BST.
England take on Uruguay on 19 June and play Costa Rica five days later.
Hosts Brazil are in Group A with Cameroon, Mexico and Croatia while holders Spain open with a repeat of the 2010 final against Netherlands.
England will have to travel 1,777 miles from their chosen base in Rio for their first match in the tropical heat of Manaus, which is in the Amazon jungle.
Earlier this week Hodgson described Manaus as "the place to avoid" because of the climate - temperatures reach 30C and humidity is about 80% - although after the draw the England boss took comfort from the fact his team face a fellow European side.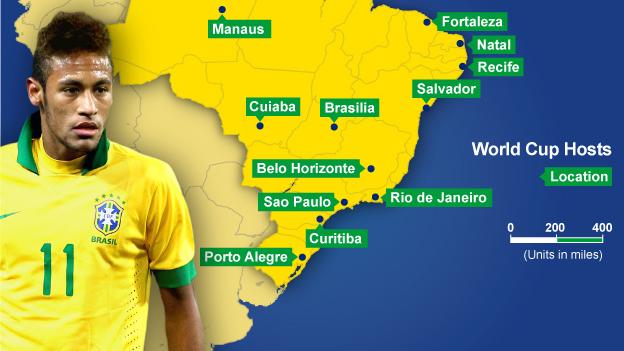 "The conditions in the north will be tough, so we will both be in same boat," he said. "If we'd had three games up in the north, it would have been difficult."
Following Hodgson's initial comments, the mayor of Manaus, Arthur Virgilio, said England would not be welcome in the city.
Italy do have recent experience of playing in northern Brazil, having lost 7-6 on penalties to Spain in Fortaleza in last summer's Confederations Cup semi-final.
England take on two-time champions Uruguay, who are likely to have Liverpool's Luis Suarez in their squad, in Sao Paulo and they play Costa Rica in Belo Horizonte - both venues are within 225 miles of their base.
England have never previously beaten Italy or Uruguay at a major tournament, while they have never faced Costa Rica.
Uruguay, who reached the semi-finals in 2010, and Italy, who knocked Hodgson's men out of Euro 2012, are ranked sixth and seventh respectively in the Fifa rankings while Costa Rica are 31st in the world - 18 places below England.
"With Uruguay and Italy, we almost have two number one seeds in our group," Hodgson added.
"We know how good Italy are because we lost to them in the quarter-finals at the Euros.
"It does not surprise me at all to get a tough draw. But I am still very positive about the whole affair, as you never know."
Chile and Australia are also in Group B alongside Spain and Netherlands, while Germany face Portugal in Group G, which also contains Ghana and USA, who are managed by German legend Jurgen Klinsmann.
Argentina have been placed in Group F with debutants Bosnia-Hercegovina, Iran and Nigeria.
Russia, who are managed by ex-England manager Fabio Capello, will play Belgium, Algeria and South Korea.
England, who were drawn in Group D by their World Cup-winning striker Sir Geoff Hurst, have not played Italy in the World Cup finals since losing a third-place play-off against the Azzurri (2-1) in 1990.
They last met Uruguay in the competition during the 1966 tournament, drawing 0-0 against the South Americans before going on to win their first and only World Cup.
Full 2014 World Cup draw
Group A: Brazil, Croatia, Mexico, Cameroon.
Group B: Spain, Netherlands, Chile, Australia.
Group C: Colombia, Greece, Ivory Coast, Japan.
Group D: Uruguay, Costa Rica, England, Italy.
Group E: Switzerland, Ecuador, France, Honduras.
Group F: Argentina, Bosnia-Hercegovina, Iran, Nigeria.
Group G: Germany, Portugal, Ghana, USA.
Group H: Belgium, Algeria, Russia, South Korea.