Brentford: Lionel Road permission "a huge day" - Mark Devlin
Last updated on .From the section Football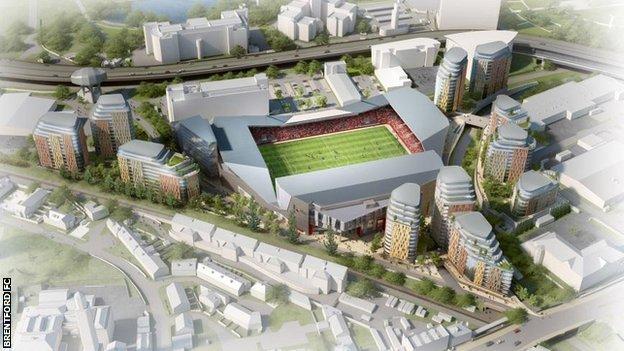 Brentford chief executive Mark Devlin says being given the go-ahead to build a new stadium is "a huge day in the history of the club".
Hounslow Council granted planning permission for a 20,000-seater stadium and residential units on land at Lionel Road at a meeting on Thursday evening.
However the council's decision is subject to referral to the Mayor of London and the Secretary of State.
The Bees hope to leave Griffin Park for the start of the 2016-17 season.
Devlin says leaving Griffin Park, Brentford's home since 1904, is essential if the club is to survive in the long term.
"For a lot of fans it will be emotional as it will mean eventually leaving Griffin Park," he told BBC London 94.9.
"The overwhelming majority understand if we are going to try and build a club that will sustain itself a division up then we need to move.
"We need to move somewhere modern that will attract new fans and those who are interested but won't come along because of facilities.
"In order to play at a higher level at Griffin Park we would need a benefactor shoving in a shed load of money over a long period of time and it may or may not work.
"This way we can hopefully build revenue streams. It all sounds very corporate but we do need money coming into the club.
"It helps us build a bigger and better squad and keep any investment from any benefactor to a minimum, with Financial Fair Play rules that will cap the owner's investment over the coming years.
"It will allow us to hopefully grow and develop up into the Championship, not be a one-season wonder and sustain ourselves there."
Land at Lionel Road was first identified as a prospective location for a new ground in 2002 and Brentford owner Matthew Benham bought the 7.6-acre site last year.
The League One club also intend to build up to 910 residential apartments on the land, which lies between Kew Bridge railway station and the M4 motorway.
Objections were raised at the council meeting that the stadium could affect the view from Kew Gardens while there were also concerns about the scale of the flats and lack of public transport.
Brian Burgess, who headed the bid project on behalf of the club, welcomed the decision by Hounslow Council's planning committee.
"This is a huge step forward and I am so pleased for all the supporters," said Burgess.
"The club has seen its ups and downs over the years and there were times when we thought it might go out of business or leave Brentford.
"The application could be called in by the Mayor of London or the Secretary of State.
"Obviously we are pleased and proud we have got this far. It is a huge step forward.
"Without this decision we wouldn't be going anywhere. With this in our favour we now move on to the next hurdle."
Meanwhile Burgess remains hopeful that Brentford will be able to move into Lionel Road in summer 2016.
"We have been talking to shortlisted development partners as we clearly haven't got the funds to build it," he said.
"We need development partners who will build the stadium and residential [units] while we provide the land.
"We have still got negotiations with landowners to conclude. There are still key issues to be resolved but we are working hard."