Hereford Utd: share conversion eases debt at Edgar Street
Last updated on .From the section Football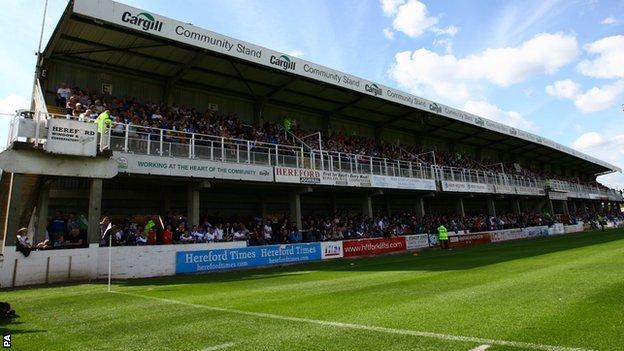 Hereford United's directors have converted £365,000 worth of loans into shares to improve the club's debt.
The Bulls announced the news a day after revealing 107 new investors had bought shares in the club since the scheme was introduced in October.
"It's not cash into the club but it does improve the balance sheet," chairman David Keyte told BBC Hereford and Worcester.
"We had the option to covert the shares and it reduces the club debt markedly."
The Bulls have been struggling financially ever since their relegation from the Football League in May 2012 and are reportedly losing around £30,000 per month.
The latest cost-cutting measures at Edgar Street have resulted in a reduction in hospitality services and some staff hours.
With Keyte keen to attract further investment, he says the latest development make the club a more attractive option.
"It improves the balance sheet and most share investors will be looking at that more so that profit-and-loss accounts and it does improve that quite noticeably," he said.
"We're grateful that just over 100 people have taken up the option to become a part owner of the football club and we'd welcome as many people as possible."
October's share scheme has so far raised £43,000 and, although Keyte says the directors' latest move is excellent news, the club are far from clear of their financial woes.
"Absolutely. It's still a struggle," he said.
"The battle we're in is day-to-day cash and the profit and loss.
"The income and expenditure is out of kilter with more money being spent to run the club than is coming through the gate."