No referee strike action over Nadir Ciftci ban
Last updated on .From the section Football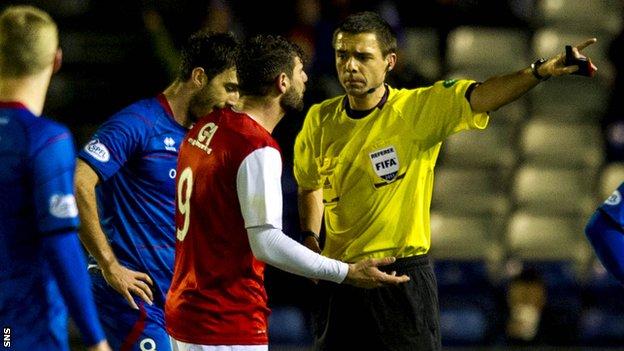 Scotland's referees association says it has no intention of striking over what it viewed as a lenient suspension for Dundee United striker Nadir Ciftci.
But the Scottish Senior Football Referees Association remains unhappy at the
That is despite receiving the Scottish FA's explanation of the decision.
"The SSFRA wishes to make it clear that it has not considered any form of industrial action," it said.
"It can confirm that it has received the judicial panel's explanation from the Scottish FA.
"Having considered the explanation, the SSFRA stands by
"We now look forward to working positively with the Scottish FA to identify a solution which is satisfactory to all parties and ensures that referees are protected throughout the game, particularly at grassroots level."
The original charge against Ciftci was reduced from "seizing hold" of official Gavin Harris "by the throat" to "placing an open hand into the lower area of the assistant referee's throat".
However, Scotland's referees association fears that the length of the ban sends out the wrong message, particularly to players in lower levels of the game.
Unhappiness by the association and former referees had led to headlines in some parts of the media drawing parallels with a 2010 strike by Scottish officials.
That resulted from a feeling that the SFA was not doing enough to protect officials from undue criticism and questions over their integrity from football clubs.
It followed referee Dougie McDonald being found to have lied to his supervisor and Celtic manager Neil Lennon after a game on 17 October 2010.
Lennon hopes that the current controversy does not lead to industrial action but had sympathy for the officials' desire to feel protected.
"I hope it doesn't come to that," said the Celtic manager. "It would be a bit extreme in this incident.
"I don't think it's as severe as the pressure they were under three years ago.
"I understand why some people feel the ban is too lenient, but you've got to take each individual case on it's own merit."
Hibs boss Terry Butcher witnessed Ciftci's dismissal from the touchline when he was in charge of Inverness CT.
Butcher was reluctant to discuss the case since he is appealing against his own dismissal from the same match but he does think there is room for improvement in the relations between clubs and match officials.
"I'd like to see more communication between the officials, managers and players," he said.
"It's good to talk things through and I don't think we do enough of that. We all need to work together."