World Cup 2014: England fans' band vow to play on in Brazil
Last updated on .From the section 2014 Fifa World Cup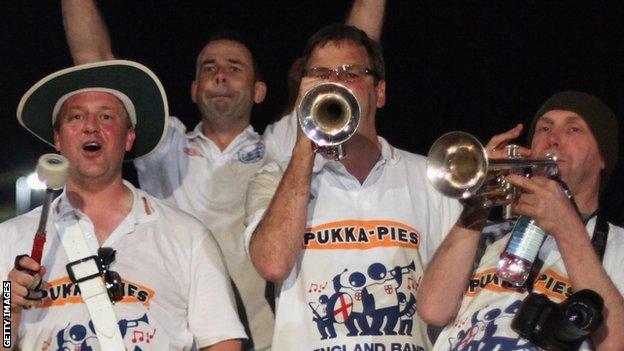 The England Supporters' Band have vowed to play on at next summer's World Cup despite organisers saying instruments will be banned from stadiums.
The six-strong brass band have given a musical backdrop to England games at every major tournament since 1996.
They were initially banned at Euro 2012 but tournament officials relented when the Football Association stepped in.
"I'm sure they'll do their best to help us on this particular occasion," said band member John Hemmingham.
World Cup managing director Ron DelMont said at a press conference in Salvador this week: "Brazil doesn't need instruments to enhance what you are going to experience in the stadium."
Mr Hemmingham said such statements were par for the course and was confident the ruling would be eased.
He added: "Obviously you can't have everybody bringing a drum into the stadium or it would be chaos, but we're all about creating a happy atmosphere and I'm sure when organisers realise this, we will be all right.
"We're fans first and foremost so we will be there regardless. We have not missed a game since 1996. We would never miss the match - but if we were not allowed in, we would still be there to create a great atmosphere outside the stadium."