Justin Edinburgh explains why he rejected Portsmouth approach
Last updated on .From the section Football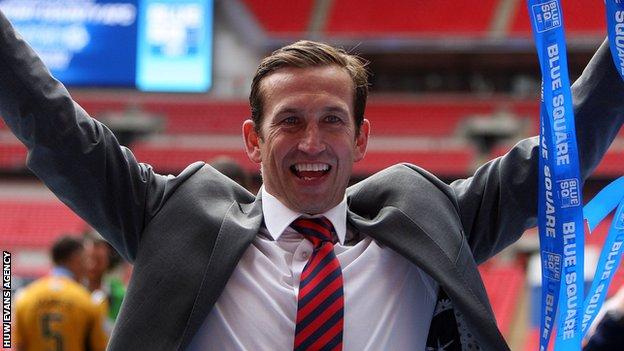 Newport County boss Justin Edinburgh says it was an "easy decision" to turn down a possible move to manage his former club Portsmouth.
Edinburgh, who finished his playing career at Fratton Park, says it is the right decision.
"They're a massive club but I feel we're a work in progress here," said Edinburgh.
Newport County appointed Edinburgh as manager in October 2011.
Last season he led the club to promotion to League Two and the Exiles currently lie just three points behind leaders Oxford United.
Edinburgh says County's current success is just one of the reasons why he decided not to speak to Portsmouth.
"The club made me fully aware of the approach from Portsmouth," said Edinburgh.
"But after good discussions with the board I made my feelings quite clear that I was happy here.
"The board backed that. We had some real positive talks and it was an easy decision."
Former Tottenham defender Edinburgh, made 34 league appearances for Portsmouth at the end of his playing career and admitted he was tempted by their interest.
"It's flattering that Portsmouth were willing or wanting to talk to me," said Edinburgh.
"Being my previous club as well, where I finished my playing my career was obviously a bit of a pull.
"Loyalty is laughed upon in football but the club [Newport] gave me an opportunity.
"I feel that we can continue our work here and I felt that it was the right decision that the club refused permission for me to speak to Portsmouth."
Edinburgh says he thinks he can take County further.
"I think I've got stability here," he said. "I've got a fantastic group of players that are a joy to work with everyday.
"I've got the board and a director of football that are excellent and give me their full backing.
"The most important thing is that we have a fantastic set of supporters, that from the day I walked in here, have made my job very easy and continue to do that.
"I didn't want to have left something behind that I feel that's capable of continuing the success we've had."