FA Cup: Stourbridge's Gary Hackett targets Stevenage upset
Last updated on .From the section Football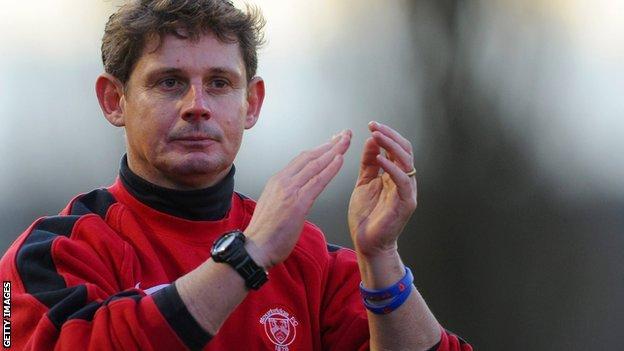 Stourbridge manager Gary Hackett is looking to "put one over" Stevenage boss Graham Westley in Saturday's FA Cup showdown.
"He wasn't particularly friendly last time, but that's up to him.
"Nothing personal against him, but it would give me tremendous pleasure to put one over him," Hackett told BBC WM.
"I suppose you could say he came to do a job and he came and did it, but he could've been a bit more friendly and complimentary.
"That's his manner, but it's nothing to do with Graham Westley, this is about Stourbridge Football Club."
Stourbridge, sixth in the Southern League Premier Division, are the lowest-ranked team left in the FA Cup.
The Glassboys reached the first round proper for the first time in their 137-year history in 2009, before losing to League One side Walsall in a local derby at the War Memorial Ground.
Two years later, they went one better by beating Plymouth in a replay to make it through to round two.
Westley's Stevenage ended Stourbridge's dream of further glory and the chance of a money-spinning tie against a Premier League or Championship club with a 3-0 win - a match in which Hackett admits, his team were second best.
"It was a very strange game. To be fair to Stevenage they did a very professional job," said Hackett, whose association with the Glassboys stretches back a decade.
"It was almost like they stopped the non-league football team playing,"
Despite that, he is confident his players can overcome the odds against a side four divisions above them in Saturday's re-match.
"Absolutely. It's like a boxer going into a fight, you've only got to slug somebody once and it could be your day," he added.
"I'd like to think we're stronger than we were two years ago, and possibly they're not as strong so we've got a chance. We've got to believe it could be our day."