Morecambe: Kevin Ellison would take injury for goals
Last updated on .From the section Morecambe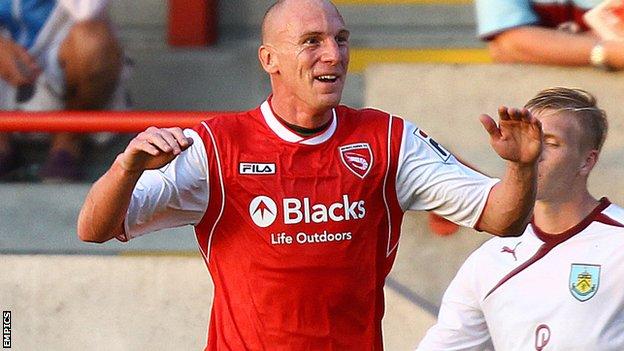 Morecambe winger Kevin Ellison says he would take another serious injury if it meant scoring a winning goal.
"If the ball bounced there again and I had a chance [to score] would I take it? Of course, I would," Ellison told BBC Radio Lancashire.
"I saw the specialist on Monday and he was worried about my sight but I'd take that for a winner."
Ellison has scored six goals in 17 League Two appearances this season and is hoping to return to action when his side travel to York on 1 January.
Despite the serious nature of the injury, he is pleased to be back in training already.
"It feels a bit like going to the dentist and the anaesthetic is starting to wear off," Ellison explained. "It is not nice at all but it's good to be back in at the club as I was bored at home."
The former Rotherham, Bradford and Tranmere man, who looks set to miss at least five games, recalled the incident.
"I remember heading it then feeling the impact of the lad's foot," he said. "I heard a cheer but I didn't want to look up because I thought I had lost my teeth at the time.
"I didn't think it was that bad at first because - I thought I just had a kick in the face and I had a nosebleed, but was more than happy to get the win."