Michel Platini: Uefa chief wants sin-bin over yellow cards
Last updated on .From the section Football375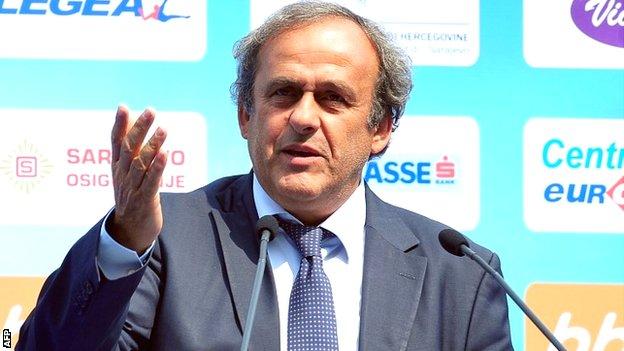 European football chief Michel Platini has called for yellow cards to be replaced by a sin-bin.
"I would make it like rugby, punishing the offender with 10 or 15 minutes out of the game," he said in an interview with Spanish sports daily newspaper AS.
"It is an idea. Now it needs to mature and see if it really is good for the game. It is a proposal to be explored."
Uefa president Platini also backed the idea of allowing national cup champions to take part in the Champions League.
Under the existing in-game disciplinary system a player who is shown a straight red card or two yellow cards in the same game is immediately sent off and cannot be replaced.
However, if a player picks up a certain number of yellow cards spread over several matches they will be suspended for future games, and it is this aspect that most concerns Platini.
He believes a sin-bin would be a fairer punishment because "that way, the benefit goes to the team he is playing against, in the same match, instead of a sanction by cards which is carried out against a third team, the next on the calendar".
The former France captain, who won 76 international caps between 1976-87 and has run Uefa since 2007, also believes goalkeepers who concede a penalty should not be sent off.
"It seems excessive," he said. "The penalty is itself already is punishment enough.
"I think it's something that everyone in Fifa and Uefa agree, but one or two of the countries that make up the International Board are unwilling to change."
Regarding the subject of Champions League qualification, which is currently restricted to where teams finish in their domestic leagues, Platini backed plans to also include winners of domestic cup competitions.
"I agree with this proposal, which we have debated many times," he said. "But when it comes time to vote, countries that don't want to cede a place for the cup champion are in the majority."