Fifa asks Brazilians to back the 2014 World Cup amid delays

By David Bond
BBC sports editor in Costa do Sauipe, Brazil
Last updated on .From the section 2014 Fifa World Cup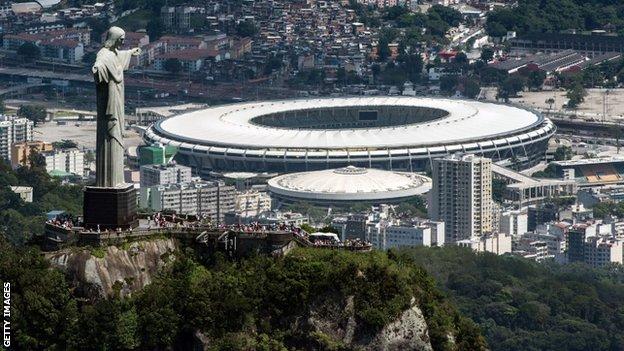 Fifa general secretary Jerome Valcke has appealed to Brazilians to support next summer's World Cup, saying it would be the "wrong time" to protest.
Football's governing body is concerned civil dissent over the cost of the tournament could overshadow the event.
"It is a right to demonstrate," said Valcke. "For them, it's the best time. For me, it's the wrong time."
He also told the BBC that delays in construction had made preparations for the tournament harder than expected.
He said: "[It's] the wrong time [to protest] because it is a time where Brazil should enjoy a unique time, a time they have not enjoyed since 1950.
"A time where they have a national team who won the Confederations Cup - a team that is the potential winner of the World Cup 2014.
"So there should be support from all Brazil for the organisation of the World Cup.
"We are not asking [them] to support Fifa, we are asking [them] to support the World Cup. We are asking [them] to support an event they won five times already and they dream to win for the first time at home."
Many of the protesters say the event is a waste of money at a time when there is a squeeze on living costs in Brazil.
Some believe the public investment in the World Cup - almost £8bn - should have been spent on schools, hospitals and transport.
Brazil's three-time World Cup winner Pele supported Valcke's call for calm next year, saying: "It is nothing against the football, nothing against the players. This is a political problem but I think this is a good opportunity.
"Brazil has three very important events here - the Confederations Cup, the World Cup and the Olympic Games.
"I think the people should be very quiet and pay attention because this is a great moment for the country. It makes good publicity, investment, tourism. I think we have to be careful because it's a big opportunity."
Protests are not Fifa's only concern. There are also serious doubts about the stadiums.
On Tuesday, Fifa confirmed that three of the hosts - Curitiba, Cuiaba and Sao Paulo - would miss their completion deadline of the end of December. There are also serious doubts over a fourth, Manaus.
Brazilian sports minister Aldo Rebelo claimed on Wednesday that all the stadiums would be handed over in January.
But in his interview with the BBC, Valcke seemed to contradict him, saying two of the four may not be finished until March.
He said: "Three stadiums will not be ready by the end of the year. One [will be ready] by the end of January 2014, and the two - between end of February and early March."
Asked whether there was any point in Fifa setting deadlines, he replied: "That's a good question. I agree, that's a good question.
"You are expecting that they understand what we need and that they will play the game by saying 'guys we are together' - and that's the disappointment."
Valcke rejected the suggestion that bringing the World Cup to Brazil had been too much of a risk but added that preparations here had been much tougher than the build-up to South Africa four years ago.
"It has been hard, I agree," he said. "In a way, I think that may be because in South Africa you had the feeling from the first minute that South Africa needed to show to the world that they can organise such an event.
"And there was a kind of support and national support and we had not as many problems we face in Brazil."