Manchester United still in title race, says Chelsea boss Jose Mourinho
Last updated on .From the section Football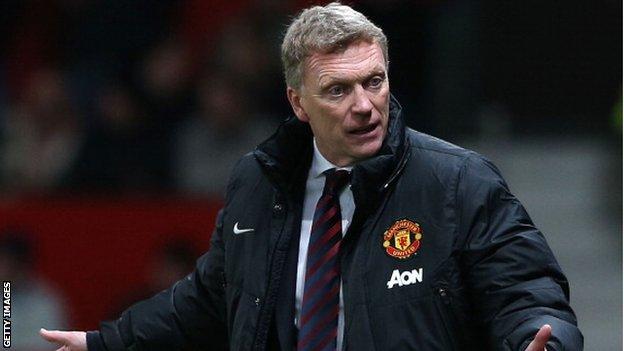 Chelsea boss Jose Mourinho refused to dismiss Manchester United's title chances despite the champions falling 12 points behind Arsenal.
"It's difficult but with Manchester United everything is possible," said Mourinho, whose side remains second.
United boss Moyes said: "We have a long way to go."
United have taken only two points from their last three games and are ninth in the table on 22 points from 14 games.
Leaders Arsenal, who have a four-point advantage over second-placed Chelsea, have 34 points from the same number of matches.
"We will need to play some great football and win an awful lot of games in the run-in if we going to be in there and around it come the end of the season," added Moyes after Costa Rican defender Bryan Oviedo scored late on to ensure United lost for the fourth time this season.
The Blues fell behind at Sunderland but came back to win a seven-goal thriller to record a third successive league win, with Eden Hazard scoring twice.
"We played a phenomenal game, the best game away from home," added Mourinho.
"It was top quality, building up well, great creativity with the three attacking players behind Fernando [Torres] - [Juan] Mata, Willian and Eden [Hazard]. We scored beautiful goals and even the fourth was a nice counter-attack situation.
"It was a very good performance. Even defensively, I think we did well, but in the last six minutes of extra time, if they had two more corners, they would have won 5-4."
Mourinho's side remain four points behind Arsenal, who won 2-0 at home to Hull as the Gunners claimed their 11th win in 14 games.
However, Sunderland manager Gus Poyet still believes his former club Chelsea will win the title.
"I can tell you that after just playing them I think they're going to be champions," added Poyet, an FA Cup winner with Chelsea in 2000.
Tottenham moved up to sixth after winning for the first time in five league matches with a 2-1 victory at Fulham.
"To keep in touch with people at the top was important, especially after some surprising results," said Spurs boss Andre Villas-Boas.
"It was important for us to be in there among the top teams to take our challenge through.
"December and January are very important months in the Premier League."