Inverness CT: John Hughes targets seamless transition
By Colin Moffat
BBC Scotland
Last updated on .From the section Inverness CT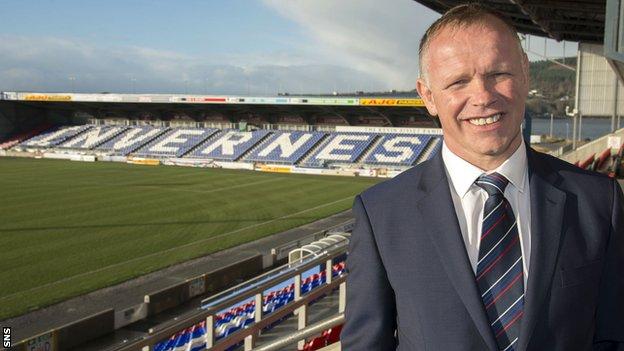 John Hughes has played in Europe for Celtic and knows what it is like to score in an Old Firm encounter.
As a manager, he steered Falkirk into the Premier League, kept them in the top flight for four years and took the Bairns to a Scottish Cup final before qualifying for Europe with Hibernian at the first time of asking.
But the man known as 'Yogi' may still be best known for streaking during a TV interview with former Falkirk team-mate Mo Johnston.
Those viewers who witnessed the bulky centre-half bombing past in the background in nothing but his football boots are unlikely to forget it.
Quick with a joke or three, Hughes who has just taken over at Inverness Caledonian Thistle, has perhaps struggled to shake off the jester's tag.
But don't be fooled by the cuddly nickname and the broad smile. Any player that has crossed Hughes on the pitch or on the training ground has soon found themselves on the receiving end of a growl more closely associated with a far more ferocious bear.
Always a fierce competitor, the 49-year-old has grown up a lot since that cold afternoon prank at Brockville in 1994.
"I am old enough and experienced enough to roll with the punches," he said on his first day at the Caledonian Stadium.
"All I'm saying is the fans are getting a guy with experience and a guy who will immerse himself in the character and culture of Inverness, a guy who is prepared to work hard and hopefully bring success to the club."
Rather than inheriting a side that are struggling, as was the case when Hughes went into his last post at Hartlepool, Caley Thistle are flying high.
The Highlanders sit second in the Premiership and are on a five-match winning streak ahead of their trip to St Mirren Park on Saturday.
And Hughes is smart enough not to meddle with the successful formula put in place by Terry Butcher.
"It's carry on regardless and letting these boys go and do their stuff," he explained.
"It's business as usual. I will be trying to do the best for my players to go out on the pitch and express themselves on Saturday. Keep that spirit, see if I can add to it and just keep the good work going.
"It will be difficult as Terry has done such a good job."
Hughes, who has signed a two-and-a-half-year contract, added: "If in a couple weeks' time the chairman or one of you guys asks a player how it is, and he says it is just business as usual, it just feels like there is being no change, then I have being doing my job. The transition has to be very, very smooth.
"I met the players and you can tell speaking to them, looking in their eyes and doing a bit of homework on them, that there are some real good characters in that dressing room. And instantly you can feel the spirit."
Hughes has had his share of knocks in a decade in the dug-out, his good first season at Hibs quickly forgotten after a sticky start to the next campaign, while he was discarded by Hartlepool following a six-month spell in which he was unable to keep them in League One.
But he is proud of his record, saying: "I think you have to evolve as a manager.
"I think my record speaks for itself. I feel I have had success and I want to bring success to Inverness.
"I'm in a real good part of the world and if I can be up here for four, six, eight years then that is success.
"Every club I have been at I have enjoyed the experience. That's what makes you the manager that you are and hopefully through all that experience, good and bad, I can bring that to Inverness."
So, Yogi is embarking on his fifth managerial job and he has already won over captain Richie Foran.
"He is a very passionate guy," the midfielder told the club website. "He spoke to us and you could see the passion in his eyes - the eyes don't lie.
"He has had a taste for success and he wants more. You can see the hunger in him."
Hopefully, Hughes will never lose his sense of humour but a hungry bear is not something you would ever take lightly.