Ronnie Jepson: Bury must recover quickly from FA Cup exit
Last updated on .From the section Bury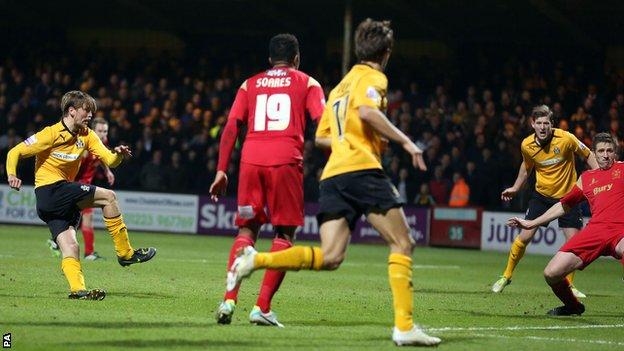 Manager Ronnie Jepson hopes Bury's FA Cup exit will not have an effect on the club's improving league form.
The Shakers have lost just one of their last seven in League Two, but were
"Other than that, we've been on a good run," 50-year-old Jepson told BBC Radio Manchester after Tuesday's defeat.
"It's disappointing to go out of the cup but if we can pick up where we left off in the league, that's all good."
Luke Berry scored both goals for Cambridge as they won 2-1 in a first-round replay, following a two weeks earlier.
"We had chances to win that," added the Bury boss. "Danny Hylton hit the post with a header and Craig Jones has had a gleaming chance to make it 2-1. They're decent chances and to go and concede one from a set-piece is not very nice."
The U's will face Sheffield United in a televised second-round tie on Sunday, while Bury - who are 20th in League Two - must wait until a home game with Northampton on 14 December for their next action.
"It won't be a break," said Jepson. "We'll be back on the training ground working hard and trying to get up to where we want to be with them, reminding everyone of their jobs and their responsibilities.
"When the next game arrives, hopefully we can improve again."