World Cup 2014: Belgium legends rule out glory in Brazil
Last updated on .From the section 2014 Fifa World Cup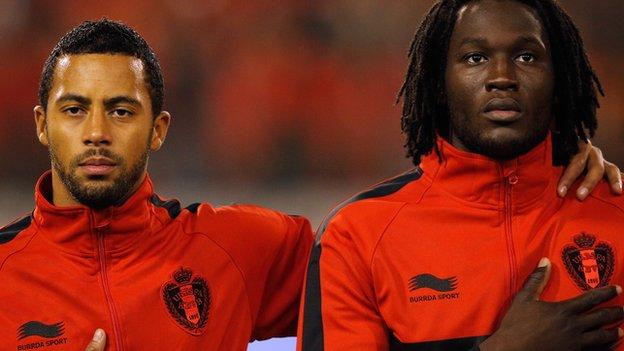 Belgium's star-studded squad cannot win the 2014 World Cup in Brazil, according to two of the men who helped them finish fourth in the 1986 tournament.
Ten of Belgium's squad that faced Wales in their last group match in qualification are currently playing in the Premier League and 13 could be in the squad next summer.
Marc Wilmots' side went through Group A unbeaten, winning eight of their 10 matches, conceding only four goals.
But Franky Van der Elst and Nico Claesen, who played at the 1986 World Cup in Mexico, believe it will prove beyond the current team to eclipse the achievements of the so-called 'golden generation'.
"I don't think it's possible that a team that has not been there for 12 years and is competing for the first time can win that kind of tournament," Van Der Elst, who played 86 times for Belgium, told the BBC's World Football programme.
"We have good players and we have good individual skill in the team but we have also some things that have to be better.
"We won our group easily, but we only scored 18 goals in 10 games - that's not that much. I know we only conceded four but let's say that 18 goals, that must be better."
A startling statistic when it comes to Belgium's scoring record is that despite so many high-profile midfielders and forwards, their top scorer is currently 35-year-old defender Daniel Van Buyten with 10 goals.
The Bayern Munich centre-back is not even first-choice if Manchester City captain Vincent Kompany is fit.
Ex-Tottenham striker Claesen, is also concerned that Belgium's current forwards - on-loan Everton striker Romelu Lukaku and Aston Villa's Christian Benteke - are not playing at a tough enough level.
"They play very well in the Premier League. Everton are a good team and Aston Villa are not bad, but it's not Manchester United, it's not Arsenal, it's not Tottenham," Claesen said. "The expectations of these teams is to be in the first four places."
Another area of concern for Belgium is that they will enter 2014 with a number of key players not first-team regulars for their respective clubs around Europe.
Arsenal's club captain Thomas Vermaelen rarely figures in the first team and, despite signing for Atletico Madrid in the summer, his fellow defender Toby Alderweireld has hardly featured at the Vicente Calderon.
After a bright start to his Chelsea career, Kevin de Bruyne has himself faded from Jose Mourinho's plans with Lukaku out on loan at the Toffees.
"For one month it's not a problem but when they don't play for three or four months, then you have a problem," said Claesen.
Van Der Elst, 52, also believes it is crucial for all of Belgium's players to head into the World Cup having played regular football.
"Go to another team to play," he said. "If they don't play until the end of May that can be a problem for Wilmots."
Claesen has also identified tactical weaknesses that could be exploited by opponents in Brazil.
"The problem, everybody knows in Belgium, is still the left-back and the right-back because we play with two players who are naturally centre-backs," Claesen added.
"With the strikers the problem with Lukaku is that if he plays in small spaces he has some problems.
"Before, Belgium was always the underdog, but now, when they play against teams who are really well-organised, I think the strikers will have problems.
"Then, Wilmots may have to change it and use faster-thinking players and more creative players to create space."
In players like Monaco's Yannick Ferreira-Carrasco, PSV Eindhoven's Zakaria Bakkali and, if he chooses to represent the Red Devils, Adnan Januzaj of Manchester United, there is plenty of Belgian talent coming through.
It is this which Van Der Elst thinks is more pertinent to an era of sustained international success than glory in Brazil.
"I think that with the current 23 that we have and with what is coming, we must be able to reach the World Cup and the big tournaments every time," he said.
"It's not possible that we go to Brazil and then have to wait another 12 years to play another great tournament
"We have now the quality to say, let's play quarter-finals. That, for me, is a realistic aim. If we can do that, and taking that experience to the next great championship, then maybe we can look further."