Wales Women captain Jess Fishlock: 'We are in great position'
Last updated on .From the section Football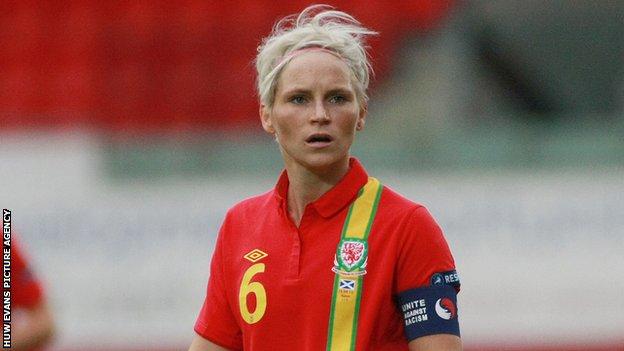 In her latest column for BBC Sport Wales, Wales Women's captain Jess Fishlock reflects on a promising start in the World Cup qualifiers and a winning start in with Melbourne Victory in Australia where she is on loan from US outfit Seattle Reign.
The good thing about our campaign so far in the World Cup qualifiers is that we've won two out of three and we're in a great position.
I felt it was sloppiness from us which cost us in the 2-0 defeat against England.
It wasn't as if England took us to the cleaners - it was a tough game for them and we had chances we could have scored from.
The thing that's really impressed me is the way we've got points from the games against Belarus and Montenegro.
Despite breaking my wrist against England I played against Montenegro, and I have to thank Glasgow City for that.
They worked really hard to get me a cast that was Fifa regulated and able to use and to play in games.
Away in Montenegro. the pitch was almost waterlogged and the conditions were very surreal but our young squad dealt with the game in a very professional manner.
Helen Ward got two against Montenegro and they were both great goals.
In Wardy we've got a little gem. Even if she's not particularly playing well, she'll score you goals and that's the sign of a great striker.
You just know if you give her a chance she'll score for you.
It was really good to see how far we've come because before now we wouldn't have had the result we needed against those teams.
We're sitting in a nice position right now. We must not switch off now in these off months and come back next year ready to go.
The big thing about my spell at Glasgow was it was more than just football for me.
It was really nice to come home and I think I've seen more of my family in those last two months than I have done in the last year.
The whole reason for the move was obviously to stay fit for Wales but also to be part of the Champions League again.
It's one of the best tournaments in the world so it was good to be part of that.
It was unfortunate the girls couldn't go further. I felt that they were definitely a side capable of that but we had one bad game and it cost us as we lost 6-2 on aggregate to Arsenal.
They were great to me throughout my loan.
I arrived back in Australia last Wednesday for another loan spell with Melbourne Victory and played against Perth Glory on Sunday even though I was still really tired with jet-lag.
We won 3-1, I scored and I actually won the player of the week, which was nice.
I am kind of using my spell in Australia like a pre-season before I return to Seattle Reign in the new year and I think there's nothing better than getting fit by playing games.
But I intend to do my best to help Melbourne Victory to win the W-League and then go to Seattle and win the National Women's Soccer League. I'm hoping for back-to-back titles.
I love Australia - it's the perfect place to get away and re-energise for the next year.
For me getting some sun is important. I think the sun is a miracle worker when it comes to healing.
There have been some big movements at Seattle during the close season.
Seattle have signed Scotland midfielder Kim Little, who I've played against a number of times for club and country.
She is world-class and I for one cannot wait to play alongside her. I think she will really thrive in the US. They will love her and she will love them.
It will finally be the stage where she deserves to be at and where everyone can see how good she is and I can't wait.
I feel the US is the perfect place for her to show the world just how good she is.
Jess Fishlock was talking to BBC Wales Sport's Aled Williams.