Fifa World Cup 2014: England draw pot could change
Last updated on .From the section World Cup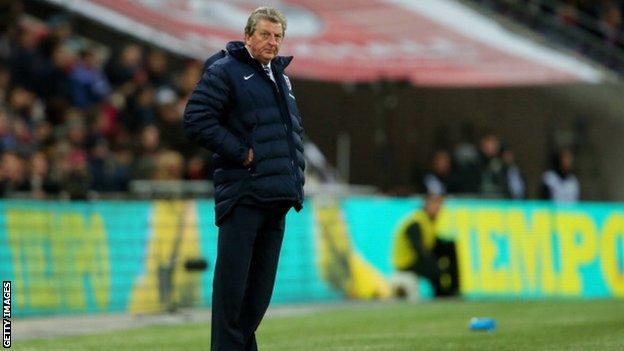 England will be hoping to avoid a late World Cup draw switch after being put in an unseeded pot of European nations.
Roy Hodgson's team are included in Pot Four, along with eight other sides, for Friday's draw in Brazil.
However Fifa announced that one of the unseeded European teams will be chosen at random to move into Pot Two.
And to 'preserve the geographic balance of the draw' that side will be guaranteed to face one of the four seeded South American teams.
These are Brazil, Argentina, Colombia and Uruguay.
Fifa revealed the draw pots on Tuesday. Should England avoid being moved ahead of the draw on Friday, they could face any of the top eight seeds from Pot One, rather than just the South American nations.
One of the European sides has to be moved to balance the draw as there are nine unseeded teams from this continent and only seven in Pot Two.
For the 2006 World Cup the lowest ranked European team took this slot, rather than it being draw at random. Under this system France would have been moved for the 2014 World Cup.
No more than two European teams, or one from South America, can be drawn in the same group for next year's competition.
As hosts, Brazil will be automatically placed into Group A. Groups will be made up of one team from each pot.
The other seeded teams in Pot One have been chosen according to Fifa's October's world rankings.
Pot 1 (top eight seeds): Brazil, Spain, Argentina, Belgium, Colombia, Germany, Switzerland, Uruguay
Pot 2: Ivory Coast, Ghana, Algeria, Nigeria, Cameroon, Chile, Ecuador
Pot 3: Japan, Iran, South Korea, Australia, United States, Mexico, Costa Rica, Honduras
Pot 4: Bosnia-Hercegovina, Croatia, England, Greece, Italy, Netherlands, Portugal, Russia, France