Gareth Bale at Real Madrid: Ronaldo inspires Wales star
By Peter Jenson
Spanish football expert
Last updated on .From the section Football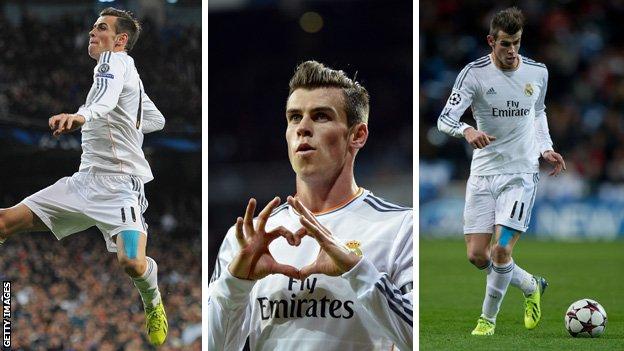 "I'm learning from the best" said Gareth Bale on Saturday night as he carried the match ball out of the Santiago Bernabeu. By "best" he meant his team-mate Cristiano Ronaldo.
The grounded talk of a determination to keep on improving spoke volumes for a player who, having recently broken the world transfer record aged 24, could easily have decided he had nothing left to learn.
Some players join Madrid and see it as a glorious landing; for Bale it feels more like the perfect launch pad. And who better to teach him to become the world's best than Ronaldo?
Bale has already stepped into the Portugese's boots adequately. In the two games played without Ronaldo, Real Madrid's top scorer, Bale buried a 35-yard free-kick and then scored a hat-trick. A header; a right foot finish; and the third goal coming from a move he started deep in his own half and finished having run the length of the pitch - it was all very Ronaldo-esque.
There are flaws, but Bale is four years younger and anyone who thinks emulation is beyond him forgets how Ronaldo has perfected his own game in the last four seasons.
Three months after signing for Real Madrid for £85.3m from Tottenham it is clear that Ronaldo's presence in the team alongside him is not the only reason why Bale's move to Madrid seems perfectly timed.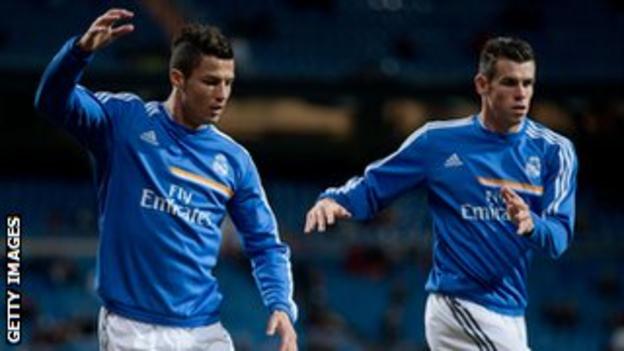 There is a relative stability at the club that was absent when David Beckham, Michael Owen and Jonathan Woodgate passed through between 2003 and 2006.
In his first three years Beckham had five different managers and won nothing. Along with Owen and Woodgate he was part of an era in which the club famously went five seasons without a quarter-final appearance in the Champions League.
Eleven years have past since Real last won the competition but after three consecutive semi-finals there is a sense now that with former winners Zinedine Zidane and Carlo Ancelotti in the dug-out; and Ronaldo in form, maybe only current holders Bayern Munich will stand in their way this time.
"We have done very well in the Champions League so far, especially the other night against 10 men," said Bale on Saturday.
That ruthless disposal of Galatasaray without Ronaldo had been inspired by Bale who has now scored the all-important first goal of a game four times so far this season.
Bale showed leadership in what was a young team coping after influential defender Sergio Ramos was sent off in the first half. No one will want to be paired with Madrid in the December 16 draw.
Another problem for Beckham and Owen was the dominance of Barcelona; something that also coloured Jose Mourinho's three years in Spain. How different things would have been for him had he not coincided with Pep Guardiola's dream team.
Bale has already lost to Barcelona, who remain top the table, but Madrid are now into their stride and Barça fans fear they have been knocked permanently out of theirs.
This feels like a transitional year for the Catalans - a season in which they will pay for their failure to refresh a once great defence or make plans for the fading of Xavi's bright light.
It is Madrid who are in the ascendency and Bale can only benefit from that.
Gareth Bale's career at Real Madrid

La Liga

Champions League

Games Played

9

4

Minutes Played

632

214

Goals

7

2

Mins per Goal

90.3

107

Total Shots

29

9

Shots on Target

12

4

Shooting Accuracy

41.4%

44.4%

Shots/Goals

24.1%

22.2%

Assists

6

0

Chances Created

9

2

Mins per Chance Created

70.2

107
Learning Spanish remains a slow process - Beckham was no more fluent the day he left as the day he arrived. Bale was stumped for a phrase to feed reporters hungry for some signs of real assimilation at the weekend.
But his unpretentious attitude will carry him where his language skills can't. Angel Di Maria was very keen to point to the name on the back of his own shirt after scoring in that win over Galatasaray last week. It might have been a pointed gesture at Bale's recent inclusion ahead of him in the side, but it was lost as soon as Bale himself embraced the Argentine and congratulated him on his goal.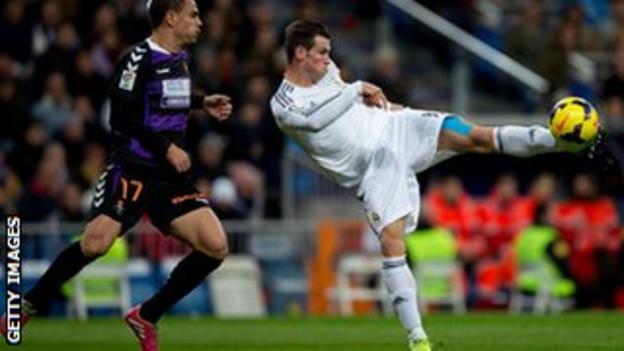 Concerns over how Bale would fit in having played for the most part on the left of Tottenham's attack where Ronaldo plays for Madrid have been unfounded. Despite good early season form from Di Maria, he has had to give up his position on the right and Bale has adapted without problems to that side of the pitch happy to have the option of coming inside and shooting off his stronger left foot.
The other worry aired at the start of the season was that Bale might 'only' be able to run down the right and cut in and shoot on his left foot. One satirical Catalan television programme depicted him as Forrest Gump, but the joke has since been on them as with every passing match a different facet to his game emerges.
The nicknames are far more favourable in Madrid. He was dubbed the 'Prince of Wales' and the 'Prince of Goals' at the weekend with the Spanish words for Wales and goals (Gales and goles) lending themselves to the play on words.
His forming part of a front three that is now out-scoring any other forward line in Europe has also seen the BBC included in the monikers. Bale, Benzema and Cristiano are Spain's very own 'BBC' as well as being Real Madrid's 'Lethal Weapon III'. His combination play with the front three has been typical of his immediate integration into the group.
"All the players and the coaching staff have been excellent with me" he said at the weekend as Madrid closed the gap on the leaders.
Paul Clement, Ancelotti's English number two, has helped him acclimatise - a process made easier, meteorologically speaking, by freezing Madrid temperatures - and as Ronaldo continues to take so much of the limelight he also takes much of the pressure.
Bale still needs a security guard sometimes at his dinner table when the attempts to have a quiet meal in the city are ruined by autograph hunters who have no respect for his privacy off the pitch. But the weight of the team rests largely on Ronaldo's shoulders. "I have not really felt any pressure, I'm just here to enjoy my football and play as well as I can," Bale says.
Three months into the job he looks the perfect fit. Timing is everything, whether it's arriving at the right moment to meet the cross as he did three times last Saturday, or turning up at Madrid with Ronaldo in his pomp and a major trophy due.